This Rotten Week: Predicting The Intern, Green Inferno And Hotel Translyvania 2 Reviews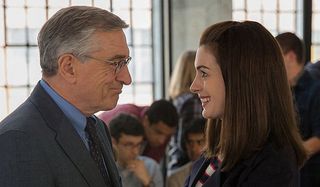 Sundays are getting harder and harder to breathe around here. With NFL and the Emmy's it's like America is conspiring against me to get this column done. But still, Hollywood keeps putting out stuff for us to enjoy. This week we've got The Intern, The Green Inferno and Hotel Transylvania 2.
Just remember, I'm not reviewing these movies, but rather predicting where they'll end up on the Tomatometer. Let's take a look at what This Rotten Week has to offer.
Rotten Watch Prediction
I could really use an intern. Someone to fetch me coffee. Handle phone calls. Pick up my dry cleaning (theoretically, I don't have a dress code). And in the process, learn the ropes of how this column is written. The invaluable (and most importantly for me, free) experience one could gain from observing me "at work" each Sunday, breaking down the week's movies in my underwear with football on in the background and Little Rotten Week wreaking havoc all over the house. Yeah, an intern would be pretty sweet.
See an older dude learn the new world order in the trailer for The Intern
I suppose the idea for this movie is cute enough. Older, successful guy is, for some reason, looking to re-enter the workforce in his twilight years to keep the work jones squelched as he walks off into the business sunset. It's the kind of scenario that only "works" in the movies because it seems patently ridiculous in many other ways. I'm not saying old people shouldn't work or whatever, but just the concept of De Niro's character integrating into the modern work environment seems like something cooked up in a Hollywood boardroom (which it was).
What rubs me a little wrong about the trailer at least (and I hope it's not the case for the whole flick) is that the movie appears built on the premise that Anne Hathaway's character is a deer in headlights female head of a startup who is way over her head until the older man comes in to save the day. Maybe I'm overstating things here, but at multiple moments in the trailer Hathaway's character is crying, looking overwhelmed while figuratively (and literally) leaning on De Niro for support. It just appears a little patronizing and man I hope I'm reading more into than is actually there.
I want to believe this is more than writer/ director Nancy Meyers' message. And I've watched other trailers in which this father/daughter thing hasn't been as prominent. Maybe I'm reading too much into this. I've been known to do such things before.
Rotten Watch Prediction
Cannibalism is pretty horrific stuff. We're all meant to be intelligent enough as human beings to be able to get over urges to kill and eat one another, but there are still people in the world who still struggle with that concept. And now director Eli Roth is once again here to take that horrific concept and run with it in big screen fashion.
The modern day horror of working to save the environment becomes real in the trailer for The Green Inferno below:
In The Green Inferno, a group of activists set off on a flight to save the clear cutting of rainforests only to have their plane crash in the deep underbrush amidst a group of cannibals. Yikes. From the trailer we suspend our disbelief a fair amount to start by assuming most of the group survives the crash. Then they are scooped up by an indigenous tribe intent on making the crew dinner and all hell breaks loose. I'm assuming this flick goes no holds barred with Eli Roth at the helm. The filmmaker has no issue going full bore on the horror scale, and I have a feeling this one gets real brutal real quick.
Roth has a lengthy history in this genre, with jump-out-of-your-seat flicks like Cabin Fever (63%) and Hostel (61%), but seems to regularly get a middle of the road reaction from professional critics. I believe this one will end up with the same fate.
Rotten Watch Prediction
Oh to be a kid of a monster. There are quite a few upsides, like pull all-nighters, scaring random people who upset you, and understanding all of bumps that go in the night and knowing they aren't there to eat you. I wouldn't mind all too much if I found out that one of my parents was a vampire – a plot we see unfold in the new Hotel Transylvania 2.
See the monster magic in the trailer below:
Hotel Transylvania (44%) is back after scoring a solid $350 million at the box office the first time around. Are you surprised by that number? Congrats, you're an adult with an actual social life. Feeling good for you. But when kids get their eyes on the screen all bets are off and you can get sequels for miles. . Hence a flick that scored poorly with critics and yet is back for a second time around.
Genndy Tartakovsky is back directing after helming the first one. As you can see from the number above, things didn't go super well with critics the last time that he helmed a major animated motion picture, but it's also worth mentioning that the guy has some impressive titles on his resume - Samurai Jack being a stand-out – so maybe he can help turn things around with Hotel Transylvania 2.
The bad news is that there are no reviews available online right now, and that's usually a sign of some deep trouble. The movie may not get crushed by critics, but it's certainly not starting in a position looking to impress. The first one didn't bust off the chart and I doubt this one does either.

This poll is no longer available.

Not a bad week from the Rotten Watch. I was two out of three with the predictions, with the third being a just miss. First off, Black Mass (Predicted: 78% Actual: 76%) was a near direct hit. This one stayed true to course from the early reviews. The consensus was the film was carried by Johnny Depp, finally de-scarved and ready to act his ass off. In a real, meaty role, dude shined. The problem seemed to be the rest of the flick. Critics weren't so enamored with the rest of the story surrounding Whitey Bulger's rise to infamy in Boston. But the prediction stayed close and that's all we care about.
Meanwhile, Captive (Predicted: 22% Actual: 36%) finished a bit better than I thought - though I admit I might have been too caught up in the backstory here. It didn't finish too far off my prediction, but I was sort of rooting for a 0% and that's never a good thing in the prognostication business. I took issue with the seemingly irredeemable piece of the secondary main character and his unjustifiable (real-life) actions in murdering people and taking others hostage. The movie seemed to play these pieces as a quasi-redemption piece and I found it off-putting. Critics thought it sucked, but not as bad my prediction.
And finally, Maze Runner: The Scorch Trials (Predicted: 59% Actual: 49%) was just within the ten percent range. This was a close call and I went over the middle mark because of the first movie's surprise performance. That swayed me even though I thought this one looked a bit messy. Movies like this will probably, at least for the short term, live in the Hunger Games' shadow. It's a tough young adult dystopian cinematic universe we live in.
Next time around we've just got Ridley Scott's The Martian. It's gonna be a Rotten Week!
Doug began writing for CinemaBlend back when Terminator: The Sarah Connor Chronicles actually existed. Since then he's been writing This Rotten Week, predicting RottenTomatoes scores for movies you don't even remember for the better part of a decade. He can be found re-watching The Office for the infinity time.
Your Daily Blend of Entertainment News
Thank you for signing up to CinemaBlend. You will receive a verification email shortly.
There was a problem. Please refresh the page and try again.