This Rotten Week: Predicting Jurassic World Reviews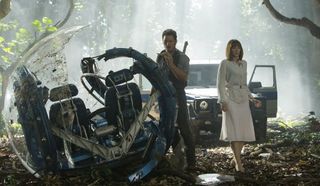 We have only one flick on the docket this week, but it's one that's been anticipated for years We are back in the world of dinosaurs as theme park attractions, as Jurassic World is arriving in theaters.
Just remember, I'm not reviewing these movies, but rather predicting where they'll end up on the Tomatometer. Let's take a look at what This Rotten Week has to offer.
POSTER HERE, LINK IT TO PREVIEW PAGE
PREDICTION RATING HERE, LINK IT TO ROTTEN TOMATOES PAGE
Rotten Watch Prediction
Back in 1993, a young Doug Norrie went to the theater to see a much-anticipated flick about dinosaurs coming back to life as part of an amusement park. I left fucking terrified that a T-Rex (or worse, a Velociraptor) would scoop me up out of the living room (or chomp me right off the toilet), and that would be the end of it all. Sure dinosaurs look fun through the pages of a kid's illustrated dictionary. But in real life? No chance. Now the terror of giant lizards is coming back to haunt a whole new generation of movie-goers.
See those dinos come back in the trailer for Jurassic World below:
Having not learned from the errors of any geneticists' ways, folks have finally opened up the first dinosaur-themed park in Jurassic World. What could go wrong? Short answer: Everything. Much like the first flick (Jurassic Park - 93%) dealt with unintended consequences of artificially reproducing a ton of dinosaurs in the name of entertainment, this film appears to roll back many of the major beats except that now the park is fully functional and a ton of people are visiting the island. Much of the rest of the flick looks like a carbon copy of the original. Chris Pratt is Sam Neill. The kids are just different kids. And the dinosaurs (or in this case, one particularly huge and destructive dino) are ready to wreak havoc on everyone and everything.
This flick's been in the production pipeline for an eternity. Now it's here, and while I think the visuals will be on point (dinosaurs make for interesting spectacle), I can't imagine we are seeing anything new with its release. The dinosaurs-run-amok story might have burned out in the first three films. And like I said, many of the beats of the fourth installment look similar to the first, and I predict that critics will see that and hold it against the film.
Director Colin Trevorrow has one other movie under his belt with the well-reviewed Safety Not Guaranteed (90%), but this is his first big budget action, summer movie. And while Chris Pratt can make just about anything watchable, I have over-arching concerns about the critical reception. It just looks too been-there, done-that. I suspect it's entertaining (maybe more so for those who haven't seen the original), and critics will not slam it. I think critics give it a collective meh. %New_Page% DOUG KEEP THIS AS IS

EDITOR CHANGE THIS POLL ID TO THE NEW ONE
This poll is no longer available.

I was two for three last week with my predictions. First off, Entourage (Predicted: 25% Actual: 30%) fell right into range. I thought this one was rather easy. Hardcore Entourage fans would love the spectacle, glitz and Johnny Drama, while critics would cause it to fall in the bottom third of the scale because of all the spectacle, glitz and Johnny Drama. I don't think the movie's makers care terribly. After all, a movie like this seems tailor-made for the fans and that's about it. It's a chance to get a bunch of celebrities and yachts up on the screen; a reunion of sorts on the studio's dime.
Meanwhile, Spy (Predicted: 92% Actual: 95%) proved that Melissa McCarthy can most definitely carry a comedy if the material is grade A. That's the case here, with critics falling head over heels for the analyst-turned-government agent comedy. This is an astounding mark for a humor flick of this sort and will rank as one of the more warmly received bigger budget comedies in quite a while. It was good to have a head start on the prediction because I don't think there was any way I'd have gone this high from the outset. But a bunch of reviews were logged, and they loved the flick. That didn't diminish over the course of the week and this one turned out a real winner.
Finally, Insidious: Chapter 3 (Predicted: 22% Actual: 59%) was a huge, huge miss. It's somewhat rare for a third installment of a series to completely outpace the second. The first Insidious (66%) performed well. <="" chapter="" i=""> (32%) faltered and the third came back strong. That doesn't happen too often, with additional flicks in a series (especially horror) often offering diminishing returns with each terror story. That wasn't the case here, and I was way off with the prediction.
Next time around we roll it back with dope, and get a little Inside Out. It's going to be a Rotten Week!
Doug began writing for CinemaBlend back when Terminator: The Sarah Connor Chronicles actually existed. Since then he's been writing This Rotten Week, predicting RottenTomatoes scores for movies you don't even remember for the better part of a decade. He can be found re-watching The Office for the infinity time.
Your Daily Blend of Entertainment News
Thank you for signing up to CinemaBlend. You will receive a verification email shortly.
There was a problem. Please refresh the page and try again.