This Rotten Week: Predicting Red 2, R.I.P.D, The Conjuring And Turbo Reviews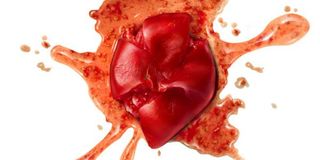 Prepare yourself for a completely uninspiring group of movies this week. Not that they're all bad, but it's just a *meh* list through and through. This week we're going red, dealing with dead cops, racing some fast snails and by the end we'll conjure up something evil.
Just remember, I'm not reviewing these movies, but rather predicting where they'll end up on the Tomatometer. Let's take a look at what This Rotten Week has to offer.
As assassins and rogue government agents enter the twilight of their careers or head towards retirement, as they tuck their Smith & Wesson .45 with optional silencer into the belts of their jacked up, old person pants, they must do so hoping to retain even a hint of the skills that carried them through their careers. Gathering intelligence on the other Bingo participants. Calling in favors from other ops guys and gals to make sure their medication is up to snuff. Threatening violent force on the wait staff of the nursing home if the Jello isn't perfectly gelatinized. Growing old means re-adjusting your skills for a new reality.
Red 2 has the gang from the surprising original back together. And though Bruce Willis, John Malkovich and Helen Mirren (joined by Mary Louise-Parker) aren't into the geriatric portion of their arcs (they can still kick an ass or two) it won't long before Red 4 explores how they neutralize a looming threat on the shuffleboard court. In this sequel the group is out to stop a nuclear device from going boom boom all over some major city.
Red (72%) was a critical surprise, and new director Dean Parisot Fun With Dick and Jane (29%) looks to keep the tone light and the action scenes nicely juxtaposed against the age of the participants. Parisot hasn't had too much juice in the movie game but has been working the television circuit with Justified, Modern Family and The Good Wife. I don't expect this sequel to carry the same critical favor as the first, but judging from the trailer it won't be far off. The tone appears comedic but tight and the cast is top rate. This group makes growing old look easy. The Rotten Watch for Red 2 is 63%
If you feel like you've already seen this movie, it's because it came out a few years ago and was titled Men in Black. And while I know someone will jump on me in the comments section about the numerous distinctions between them, the general conceit appears the same. Young rookie cop joins grizzled, confident veteran to battle the forces of evil (aliens, undead, whatever) that walk amongst us without our knowledge. The old and young guys will have it rough at first as the newbie adjusts realities he never could have imagined, but will learn to work together if they want to stop the end of the world (or something along those lines). The players might be different. Some of the beats and jokes might vary. But man, the similarities just seem too many to ignore. It even appears as if Jeff Bridges is playing Tommy Lee Jones in a cowboy hat. Crazy.
In R.I.P.D. Ryan Reynolds is a freshly dead cop, killed in the line of duty, whose body is transported to the police department of the dead. It seems as if some dead folks don't want to walk through the pearly gates (or more possibly, into the fiery pits) and try to stick it out in the world of the living as long as they can. The R.I.P.D. flushes them out with an array of out-of-this-world weaponry (sound familiar?) without the rest of the world (hopefully) being any the wiser.
There aren't many reasons to suspect this flick will garner any significant critical praise. The premise seems like a retread and many pieces of the action appear silly and contrived. Weirdly enough, director Robert Schwentke is avoiding retracing his own steps this weekend-- he directed the original Red (72%), but isn't returning for the sequel. Aside from that surprise hit, though, his resume (The Time Traveler's Wife-37%, Flightplan-38%) doesn't inspire a great deal of confidence. His other work has been decidedly below average. Need some more evidence? Screenwriting team Phil Hay and Michael Manfredi put Clash of the Titans (28%) and Aeon Flux (10%) at the top of their resumes. So while with the Rest in Peace Department around, things aren't looking good for the reluctant dead, the prospects for this film look even bleaker. The Rotten Watch for R.I.P.D. is 33%
When the words "Based on the true story of the Warrens..." flashes across the screen in this trailer I want you to real quick head over to the website of Ed and Lorraine Warren at The New England Society for Psychic Research and decide how much of anything that comes out of their "files" could be true. That is of course if you are able to look at the site for a prolonged period of time without getting a headache (I wasn't).
But don't let me tell you about them. Just read their bios (assuming you can get past the red, white and blue font with twinkling light background). I mean they are a demonologist and trance medium, husband/wife team who investigated the Amityville Horror so you know they're legit.
All that being said, looking past this thing being, by any realm of the imagination, "true", The Conjuring has been an early hit with critics. It tells the story of yet another stubborn family, beset upon by spirits/ demons/ whatever in their home, who refuse to pack the moving van and beat tracks out of Dodge (Rhode Island). Instead, they call in the Warrens (Vera Farmiga and Patrick Wilson) to flush out the baddies in order to retain some resale value on the house.
Early reviews have it as a strong haunted house horror, scary and gripping. Director James Wan has a mixed bag resume with Insidious (66%), Death Sentence (20%) and Saw (48%) but his latest is sitting at a cool 87% through fifteen reviews. This score seems inversely proportional to the legitimacy of the source material. But who cares really? A good scary movie is a good scary movie no matter how dubious the source material may be. The Rotten Watch for The Conjuring is 76%
I'm a pretty fast runner. Just ask my two year old, who I consistently beat in foot races down our neighborhood sidewalk and in the local park. She'll tell you, "Daddy's fast!" and it's true. I smoke her in pretty much any distance because I have major wheels. So it's hard for me to identify with Theo, a garden snail who has the need for speed but is held back initially by his gastropoda taxonomic grouping. It isn't until he gets a PED nitro boost after getting sucked into the engine of a drag racer that he realizes he can motor upwards of 200 mph. Again, tough for me to identify with because all I need are my Asics.
Look I'm not a malacologist so I can't comment about the scientific principles behind fusing DNA with nitrous oxide in the skeleton of a snail (if any of you out there can confirm if this is possible, let me know, I'm legit interested), but I do know that it pays dividends for Turbo who gets a chance to join the Indy 500 as a racer. (Also, if any of you can confirm if the IndyCar circuit would allow a snail into the racing group let me know about that too).
The movie as a whole looks cute, presumably another positive addition to the DreamWorks Animation stable, joining recent critical pluses The Croods (69%), Rise of the Guardians (74%) and Madagascar 3: Europe's Most Wanted (79%). DreamWorks has a track record of putting out above average animated flicks, falling just short of industry leader Pixar's excellence, but typically hovering in the 70-80% range. Nothing to scoff at. Director David Soren takes his first crack at helming a major movie and I think it comes in line, if not a bit lower, than DreamWorks other successful films. Get back to me on the science behind it all. The Rotten Watch for Turbo is 64%
This poll is no longer available.
Recapping last week:
Nice little week for the Rotten Watch. Starting off with Pacific Rim (Predicted: 78% Actual: 72%) that propped its critical score up on the back of some crazy awesome CGI and special effects in its homage to "giant monster" films of the past. Many of the reviews followed Katey's blueprint in that the story was messy while the effects were badass. All in all, it made for a great prediction.
Meanwhile, Grown Ups 2 (Predicted: 11% Actual: 7%) was an easy one. No possible way this thing was getting out of the critical basement. If anything, my prediction was high even at the time. It was me hedging just by the barest of margins in case Sandler and company pulled off a miracle by making critics like the flick. But does it really matter? People still went out and bought tickets for this mess which means in a few years I'll probably be making a 5% prediction on Grown Ups 3.
Next time around we make a to-do list with Wolverine. It's going to be a Rotten Week!
Doug began writing for CinemaBlend back when Terminator: The Sarah Connor Chronicles actually existed. Since then he's been writing This Rotten Week, predicting RottenTomatoes scores for movies you don't even remember for the better part of a decade. He can be found re-watching The Office for the infinity time.
Your Daily Blend of Entertainment News
Thank you for signing up to CinemaBlend. You will receive a verification email shortly.
There was a problem. Please refresh the page and try again.