Roy Scheider Dead At Age 75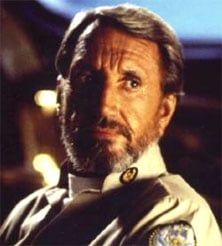 I have to say, I didn't see this one coming. Some people just seem invincible. Roy Scheider always seemed like one of those people, but today he proved mortal. Scheider died this afternoon in Little Rock, Arkansas at the age of 75.
The news comes from the NY Times, where they say he died of complications from a staph infection. Apparently for some time now he's suffered from multiple myeloma, an incurable plasma cell cancer which wreaks havoc on the immune system. That perhaps explains the staph infection.
Scheider worked in film and television for 52 years, almost his entire life, and he worked right up until the end. IMDB has him listed as being in two upcoming projects, both of which he completed. The first is a thriller called Dark Honeymoon and the second another thriller titled Iron Cross, both due out later this year.
Roy was a lot of things to a lot of different people in his career. To most, he's probably best remembered for starring in the first ever Hollywood blockbuster, Jaws, where he played police chief Martin Brody. He reprised the role in the sequel Jaws 2 but thankfully, avoided the whole Jaws 3D thing. Smart move sir. Smart move.
Since I wasn't born until two years after it first made waves, Jaws was never a big part of my scene. I am however, a huge nerd and so to me Scheider will always be Captain Nathan Bridger, skipper of the SeaQuest, the high-tech submersible battleship of the future which bubbled its way across TV screens in the nineties. Its two-year undersea voyage was all too brief, but the show was in many ways ahead of its time, attempting to push the notion of environmental responsibility and high adventure in one slick, sci-fi package. Having Scheider's name leading SeaQuest DSV's title credits lent it respectability, and his compassionate commander character was the anchor of the show… at least whenever the dolphin was busy.
Scheider leaves behind an acting legacy which will be remembered long after we've all forgotten about his obituary. He was nominated for an Academy Award for his work in All that Jazz. He ruled the broadway stage in the 80s. Roy Scheider is a cultural icon, and tonight he is missed.
Your Daily Blend of Entertainment News
Thank you for signing up to CinemaBlend. You will receive a verification email shortly.
There was a problem. Please refresh the page and try again.