Rupert Grint To Play A Hitman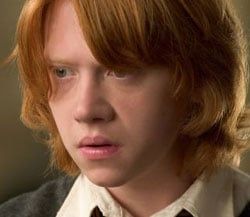 Daniel Radcliffe is off being naked with a horse on stage, Emma Watson is going to school and planning a life without acting, it's time for Rupert Grint to stretch his wings and look outside the Harry Potter nest. He'll do it, by starring opposite Bill Nighy and Helena Bonham Carter in the hitman movie Wild Target. You can have your horse, Harry Potter, Helena Bonham is better than any equine.
Wild Target has Nighy playing a middle-aged hitman (middle aged? more like old) trying to pull off one more job before he retires. In the process, he runs into a delivery boy played by Grint, who he can't bring himself to kill. Ron Weasley is just too cute. So rather than wipe him out, he takes the kid on as an apprentice and teaches him to kill people until things go awry and a gangster sends another hitman to kill them.
You'll be able to see Rupert Grint shoot people in the head some time in March of 2009. He's got another film in the pipe too, a teen binge drinking movie called Cherrybomb, due in theaters later in 2009. Booze and guns, all in one year. See Daniel, you can break out of the Harry Potter mold without showing us your pubes.
Your Daily Blend of Entertainment News