Russell Crowe Officially Replaces Brad Pitt In State Of Play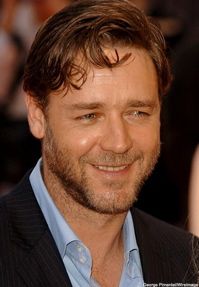 All the somewhat-talented Hollywood pretty boys are always trying to distinguish themselves from one another, right? Leonardo DiCaprio goes off and tries to save the environment, Matt Damon kicks ass in a series of spy movies, all to keep everyone from getting them confused with Brad Pitt.
Well, Russell Crowe is pretty much dispelling the idea that he and Pitt are any different, having replaced the actor on the set of State of Play. Pitt quit the film a few weeks ago after a dispute about the script: he says it's not good enough, everyone else says it is, so there you have it. Crowe apparently has no such qualms, and it's now confirmed that he's stepping into Pitt's part as a journalist leading an investigation into a political scandal.
State of Play almost became a victim of the writers' strike when Pitt left, with all the other actors involved (Helen Mirren, Robin Wright Penn, Rachel McAdams, Edward Norton and Jason Bateman) working within tight schedules and locked into pay-or-play deals which would have resulted in harsh penalties if they quit (It's still not clear if Universal will sue Pitt as a result of this). Luckily Universal's right-hand man Crowe came to the rescue, after starring in one hit for the studio (American Gangster) and planning to go straight into making another (Nottingham).
The movie is based on a British miniseries that won major accolades when it aired over there, and with such a great cast this version is sure to be a prestige player as well. Quitting the project may turn out to be the stupidest thing Pitt ever did, but if the script actually isn't any good, we're all in for a long, talky political drama-- you know, just what we don't have enough of right now.
Your Daily Blend of Entertainment News
Staff Writer at CinemaBlend