Ryan Gosling And Charlize Theron Eyed For Oscar Pistorius Biopic?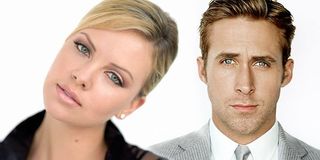 There was a time not so long ago when the world looked to South African sprinter Oscar Pistorius as an unquestionable inspiration. Known as the Blade Runner because of the distinctive prosthetic legs the two-time amputee runs on, Pistorius drew a lot of attention at the 2012 Summer Olympics, where he was the first amputee runner to ever compete in the prestigious event. But then came the horrific events of Valentine's Day 2013, when Pistorius shot and killed his girlfriend Reeva Steenkamp, a paralegal and model who had been dating the runner since November. Pistorius, who claims he thought she was an intruder when he fired his gun, is currently out on bail awaiting trial, but already Hollywood is said to be laying groundwork for his biopic.
The Daily Mail claims to have "LA sources" declaring there are two scripts in development about Pistorius' rise and fall, and that Ryan Gosling and Charlize Theron have been approached to play the Blade Runner and the late Steenkamp respectively. Considering this is The Daily Mail we're talking about, take this news with a grain of salt and remember that even in their report neither star is reportedly interested in such a project.
Are there talks somewhere in Hollywood about how this tragic story would make a good movie? I'm sure there are. However, it's also one that most people would deem too soon to tackle lest it seem blatantly calculating and exploitative. But for the sake of argument, let's consider what a Pistorius biopic starring Gosling and Theron would look like.
Gosling has not shied away from portraying an accused real-life killer before. In 2010, he starred in All Good Things, a gruesome drama that essentially imagined what may have happened between wealthy NYC socialite Robert Durst and his wife Kathleen McCormack, who went missing in 1982. However, that's a movie we'd rather forget. Then considering the revolting way Steenkamp's been portrayed in the press—notice of her murder ran with splashy headlines alongside shots of her in teeny bikinis effectively sexualizing a dead woman—it'd be good to see an actress with real grit and depth take on her life story and help bring focus back to her as a person, not an object of sex and tragedy. Still, I'd join the chorus of people moaning "too soon" on this one.
For more details on this murder case, watch this:
Staff writer at CinemaBlend.
Your Daily Blend of Entertainment News
Thank you for signing up to CinemaBlend. You will receive a verification email shortly.
There was a problem. Please refresh the page and try again.