Ryan Gosling, Russell Crowe Sought For Shane Black's The Nice Guys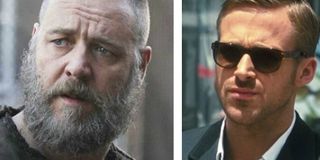 There's an entire generation of nerds right now who know Shane Black as the director of the billion-dollar Iron Man 3. Which is perfectly fine, but when Shane Black gears up to make a new movie, as he may be doing with The Nice Guys, there are other reasons to get excited. And when Shane Black talks up Russell Crowe and Ryan Gosling, then y'all need to recognize.
The Wrap is reporting that The Nice Guys is taking shape, with writer-director Shane Black connected, and the production is seeking Russell Crowe and Ryan Gosling to star. Black's frequent collaborator Neal Moritz is on board, and the project is being shopped to financiers, though it could start to look much more attractive with those two stars in place.
The Nice Guys script, penned by Black and Anthony Bagarozzi, has bounced around for awhile now. The story is a 70's period piece about a porn star's suicide that wasn't. Apparently she's still alive, there's money involved, and alcoholic private eye Hollard March gets involved in the case. Soon, he learns that he and musclebound companion Jackson Healy learn that the case involves a conspiracy regarding smog pollution and the U.S. auto industry.
Both Gosling and Crowe could use a project like this. Gosling is coming off the harsh reception to his directorial debut Lost River, and he's only got a small part in the next Terrence Malick movie coming up. Crowe, who starred in this year's $345 million-grossing Noah, is a little busier. He's currently putting together his directorial debut The Water Diviner (thrilling title there, Russ), but once that's complete, it looks like both actors are available. Knowing Black's reputation, this thing should be more than a little funny: while both actors have exhibited a sense of humor in recent history, it hasn't been onscreen. The tragedy that Ryan Gosling and Russell Crowe have experienced in movies the last few years could power a few Dostoyevsky novels. It would be nice to see them crack wise with each other.
Shane Black, for those of you who somehow do not know, is probably one of the most influential screenwriters in movie history. He quickly developed a reputation in Hollywood for being the go-to guy for tough guy action and quippery, single-handedly inventing the modern action comedy template by writing Lethal Weapon. Later on, he would deconstruct the genre with The Last Boy Scout and his work on The Last Action Hero, and his script for The Long Kiss Goodnight is one of the genre's absolute best: silly, violent and endlessly quotable. After a short time in the wilds of unemployment, Black returned by writing and directing Kiss Kiss, Bang Bang. The movie was seen by absolutely nobody, save for a devoted cult, and it led to star Robert Downey Jr. landing the Iron Man gig, and eventually Black directing his second film, Iron Man 3. Somehow, Black hasn't been able to get a new directing gig up and running, even after a billion dollar success. Hopefully, The Nice Guys continues the Black tradition of tough guy badasses, hilarious one-liners, and wanton, guilt-free violence.
Your Daily Blend of Entertainment News