Shane Black's Iron Man 3 Follow-Up Will Be Doc Savage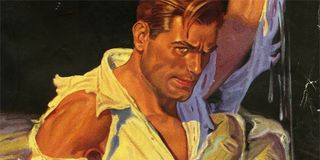 Shane Black is riding high on the biggest opening weekend of his career, though that doesn't really say it all-- he's riding on the biggest opening weekend of anyone's career except for Joss Whedon's, with Iron Man 3's $174 million domestic haul making it the second-biggest opening of all time. The screenwriter-turned-director now has the world at his feet, and what's he going to do with all this newfound capital? What any of us would do-- take a much-needed vacation (probably), then get to work on a passion project.
And believe it or not, it's taking him back to the world of book adaptations, though not the Marvel universe, and not comics at all. Sony has confirmed that Black will finally be getting to work on Doc Savage, an adaptation of the pulp novel series following "scientist, physician, adventurer, inventor, explorer and researcher" Doc Savage. Black has been working on the project for many years, and Sony picked it up in 2010, when Iron Man 3 was just a gleam in Black's eye. Sony has Black is eyeing Doc Savage as his next film, and they're probably thrilled to nail him down before other studios start making outlandish offers to get him under their roof.
Iron Man 3 was going to be a slam-dunk success no matter what, but Black's hand behind the script and the camera sure helped, thrilling both his longtime fans and those of us who loved the element of surprise he brought to the story. Doc Savage is practically guaranteed not to be as big as Iron Man 3, but since it's clearly something Black really wants to make, it looks like his perfect follow-up anyway.
Staff Writer at CinemaBlend
Your Daily Blend of Entertainment News
Thank you for signing up to CinemaBlend. You will receive a verification email shortly.
There was a problem. Please refresh the page and try again.