SXSW: The Raid, Compliance And The Festival's First Bomb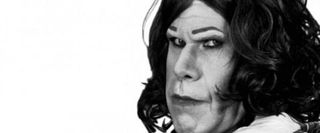 Between screenings, interview opportunities and the occasional party, the first SXSW weekend can be an avalanche of activity. Publicists nearly outnumber credentialed journalists as studios work overtime to get reporters to sit down with talent who has traveled to Austin, hoping to make a splash.
So running from venue to venue trying to absorb as much as possible hasn't left me much time to actually write about what I'm taking in. Earlier, I caught you up on the SXSW opening night film, Cabin in the Woods, and a number of pictures I squeezed in between interviews with Joss Whedon, Matthew McConaughey, Aubrey Plaza, Mark Duplass, Gina Gershon and more. And all of those pieces are coming to the site, though probably not until I'm free from the insanity that is SXSW.
In the meantime, here are quick hits on what I've seen since. I'll start at the bottom and work my way up to the top, which means we begin with Frankie Goes Boom, my first -- and so far only -- bust of this year's fest. Unfocused and unfunny, the comedy follows two brothers (Charlie Hunnam, Chris O'Dowd) who embark on a series of misadventures to retrieve a DVD loaded with embarrassing footage. Writer-director Jordan Roberts has a strange sense of humor, one that aims for dark but ends up with muddled. Frankie thinks it's zany, with Ron Perlman playing a transvestite computer hacker named Phyllis or Chris Noth jogging on a treadmill while only wearing a jock strap, but the whole film reeks of a desperation to shock, and it has no idea how to use Lizzy Caplan, a usually intelligent comedic actress. Want to know why Frankie Goes Boom? Because it's a bomb.
The experimental Compliance is better, yet not without fault. Though a narrative story, it's reportedly based on a series of true criminal cases where a prank phone caller pretended to be a police officer and put fast food employees through humiliating tasks – in the name of law enforcement – to see how much he could get away with.
Dreama Walker plays the prankster's current victim, a teenage employee of a chicken-strip shack who is accused of stealing from a customer. But Ann Dowd owns this tight-knit and well-structured morality puzzle by commanding our attentions as Sandra, the over-matched store manager who's so eager to please reported authority figures that she's blind to the pain she's inflicting on her innocent colleagues.
Compliance serves as a measuring stick. When would you have said, "Stop. Enough. Get me a lawyer." But as writer-director Craig Zobel stacks his deck, it also becomes about how far his film will go to provoke a response. The answer? Very far.
The law enforcement agent in Compliance may have been pretending, but the cops in The Raid are not. If you haven't yet heard of Gareth Evans' intense martial arts thrille … well, where the hell have you been? This one entered SXSW with some of the program's loudest buzz, and for action fans, it lives up to the hype.
The Raid is pressure-cooker cinema, with audience members alternately gasping and cheering as members of an Indonesian SWAT team infiltrate the hideout of a notorious kingpin, then fight their way out when the plan goes awry. While I personally prefer an action hero with some vulnerability (it's part of the reason why the original Die Hard remains my all-time favorite film), the sight of rookie cop Rama (Iko Uwais) relentlessly mowing down waves of enemies is equal parts bloodthirsty and exhilarating. There's no respite in The Raid, just wall-to-wall action and spectacular fight choreography, some of the best I've ever seen… well, ever. If that's your thing, check it out when Sony Pictures Classics releases it on March 23.
There's no respite in the SXSW schedule, either, so I'm running to Matthew Lillard's Fat Kid Rules the World. But I'll have a fresh update soon. Thanks for reading!
Managing Director at CinemaBlend. ReelBlend cohost. A movie junkie who's Infatuated with comic-book films. Helped get the Snyder Cut released, then wrote a book about it.