Sacha Baron Cohen Arrested For Being Bruno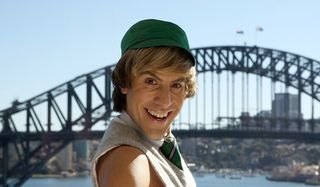 It seems Sacha Baron Cohen is still out there, somewhere, shooting footage for his movie based on Bruno, the gay fashionista character from Da Ali G Show. The movie has another one of those long, Borat-like titles. They're calling it Bruno: Delicious Journeys Through America for the Purpose of Making Heterosexual Male. In the process of making it, every once in awhile, Bruno pops up and raises a stir. Last week he publicly paraded his codpiece in Italy, by causing trouble on the fashion runways of Milan.
It seems he leaped onto a catwalk during Milan's Fashion week and started doing his thing, refusing to get off when security asked him to. Not surprisingly, he ended up being hauled off by the police however, the Italians seem to have a pretty good sense of humor about the whole thing and various reports confirm that never actually filed charges. Bruno was right back out on the street, where he is no doubt already engaging in delicious journeys.
An Italian film crew captured the whole thing, watch it via the embed below.
Your Daily Blend of Entertainment News