The Sad Reason Jon Hamm Couldn't Play The Lead In Gone Girl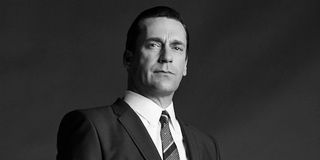 Last year, Gone Girl became far and away director David Fincher's biggest box office hit. Stars Rosamund Pike and Ben Affleck garnered rave reviews for their portrayal of the Dunne's, the most dysfunctional couple you'll ever hope to meet, but the male lead, Nick, was almost played by Jon Hamm. The Mad Men star was up for the part, but contract issues prevented him from taking it, and he's still a little pissed.
David Fincher's pulpy adaptation of Gillian Flynn's best-selling novel went on to gross north of $368 million worldwide and score a Best Actress Oscar nomination for Pike. With Mad Men drawing to a close, this could have been just the kind of breakout movie role Hamm needed to keep up the momentum in his career. Unfortunately for him, sources told Page Six that Mad Men creator Matt Weiner wouldn't let Hamm out of his contractual obligations to the series. Their source claims Hamm is upset about missing out on what could have been a major opportunity as he moves on to whatever is next.
Another source chalked up Jon Hamm not being able to take the role of Nick Dunne as a result of the shooting schedule of Mad Men. You can understand not wanting to lose their star just as the show moves into the push towards the finish line, but it's also easy to recognize why Hamm would be frustrated at having to pass on such a visible role. That would be a nice wave to ride into his post-Mad Men life, and it's hard not to feel for the guy, though he'll probably have a shot at a few more high profile roles before he calls it a day.
If there is any bad blood between Hamm and Weiner, the actor is certainly hiding it well. Fresh out of a 30-day stint in rehab for his heavy drinking, something he has dealt with for a number of years, Hamm has been fulfilling all of his press obligations, even appearing alongside Weiner and not giving any appearance of a feud or beef. It is possible to be upset, but not take it personally.
Jon Hamm could have been very good as Nick, the husband who returns home on his anniversary to find that his wife, Amy (Pike), has disappeared. While we can wonder what could have been, it's hard to argue with Ben Affleck, who nailed the part that shifts back and forth between victim to duped spouse to murder suspect and more. That's really the best part of Gone Girl, how it sets up your expectations throughout, only to continually subvert them until you're never sure what to believe. Still, the whole world could have been talking about getting a quick glimpse of Jon Hamm's wang instead of Affleck's. You can't buy publicity like that.
Fans have been waiting to see the finale of one of the most acclaimed shows in recent memory since last May, and the final seven episodes of Mad Men begin this Sunday, April 5 on AMC.
Your Daily Blend of Entertainment News