10 Actors We Want To Star With Ben Affleck In David Fincher's Strangers On A Train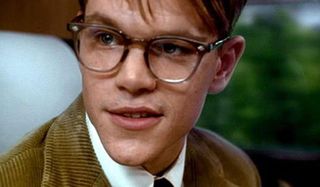 It's only been a few months since the theatrical release of Gone Girl, but as we learned yesterday, director David Fincher, writer Gillian Flynn, and star Ben Affleck are all very much itching to get back to work together. It's been revealed that the trio are now reteaming for a remake of the Alfred Hitchcock classic Strangers on a Train, with Affleck set to play the movie's protagonist. The big question that remains, however, is who will play opposite him as the film's murder-trading villain.
Reported to be titled simply Strangers, sources have said that elements of the original story are set to be changed in a significant way in the new film – including the fact that the setting will be modern day and that a private plane will be taking the place of a train. That being said, the relationship between the two lead characters is still expected to be the central focus of the narrative, and to play against Ben Affleck as the hero the project will need a high-caliber talent. We still don't know who the ultimate choice would be, but we do have a few suggestions…
Matt Damon
There used to be a time when Ben Affleck and Matt Damon were seen as an inseparable pair, both starring in movies and winning Academy Awards together. However, it's been about 16 years since the two men had significant roles in the same movie, last seen starring together playing the angels Bartleby and Loki in Kevin Smith's 1999 religious comedy Dogma. David Fincher's Strangers on a Train is a perfect opportunity to end that streak. One might argue that the reunion could possibly be a bit too much of a distraction, but the project would provide the two actors with a fantastic dynamic, and give Damon a chance to go really crazy for the first time since The Talented Mr. Ripley. Affleck and Damon have proven in the past that they can be a terrific on-screen duo, and this project may be ideal to get them back together.
Rosamund Pike
As mentioned in the intro, David Fincher's version of Strangers on a Train will make some pretty key story deviations from the original Patricia Highsmith novel and the 1951 Alfred Hitchcock adaptation, but why is the plot the only thing that has to change? What about the gender of the antagonist? If Fincher were to go this route, then a particularly easy choice may just be to once again enlist Rosamund Pike. Not only would the actress' inclusion actually bring the entire Gone Girl main team, but Pike has certainly proven that she can sell homicidal nut as good as anyone. It's true that making the character Bruno Antony a woman would definitely change the dynamic between her and the protagonist Guy Haines, but that may honestly be extremely refreshing considering how many times we've seen this narrative play out with two men.
Don Cheadle
Don Cheadle's career isn't quite what it was about 10 years ago when he was earning incredible critical praise for his performance in Hotel Rwanda, but starring with Ben Affleck in Strangers on a Train could both be a great opportunity and a perfect bit of casting. One needs to look no further than his performances in films like Steven Soderbergh's Out of Sight and Carl Frankin's underrated Devil in a Blue Dress to recognize the actor's skill at playing dangerous, violent individuals, but at the same time he can lay on the charm as thick as most other leading men in Hollywood. Depending on when things get rolling on this project, Cheadle may wind up having some scheduling issues due to his commitment making his television series House of Lies, but given the opportunity he could be a terrific foil for Fincher's new film.
Brad Pitt
It's not exactly a secret that David Fincher and Brad Pitt work extraordinarily well together. Their feature film collaborations over the last 20 years have resulted in what can easily be considered some of their best respective work, and they will likely be included in the selection of titles that the two men for which the two men will be forever remembered. They're so great together, in fact, that it would be a crime to never see them team up again – so why not reunite for Strangers on a Train? Pitt and Ben Affleck have never had the chance to work together before, but they could be a truly fantastic match-up, and it would be rather amazing to see them square off in the film's big climactic moments. Also, if there's a selection of people in the world who could potentially convince a complete stranger to kill someone for them, Brad Pitt would certainly be one of them.
Jonah Hill
There are some people out there who still have a bit of trouble taking Jonah Hill too seriously thanks to his comedy background, but let's be real here: the guy is a damn good actor. Beyond just being incredibly funny in movies like Superbad and 21 Jump Street, the guy has put on some honestly amazing and memorable performances these past few years in movies like Moneyball and The Wolf of Wall Street - and he has the Academy Award nominations to prove it. As such, he may be an odd but perfect choice to star opposite Ben Affleck in Strangers on a Train. Because he's so unassuming, Hill could easily lean on a creepy vibe for the role – similar to what he did in Martin Scorsese's movie for comedic effect – and create a version of Bruno Antony that is terrifying and unique.
Ed Harris
In Strangers on a Train, the protagonist and antagonist have classically been around the same age, but if David Fincher's version were to mess with that idea a bit, it would be fantastic to see him get someone like Ed Harris to play opposite Ben Affleck. It's true that you would have to change the Bruno Antony character motivation a bit, as someone Harris' age probably doesn't have a father that they want snuffed out, but it would also enable a wholly different kind of relationship for the two leads. Because he's a bit older and potentially less able to physically keep up with someone Affleck's age, Harris' version of Bruno could possibly be more of a mind-game player and manipulator, which would really suit the role just fine. Plus, Harris just showed us this past summer in Snowpiercer that he can still be extremely menacing just talking and walking around.
Neil Patrick Harris
Yes, we're once again dipping back into the Gone Girl pool here, but can you really blame us? Neil Patrick Harris was perfect as the creepy, controlling Desi Collings in David Fincher's last film, and if he can do that well in a supporting role we would love to see him get bumped up to being a lead. It doesn't really take that much imagination to picture NPH charming the hell out of Ben Affleck after a random meeting, and eventually getting him to start spilling dark secrets and murderous desires. This is also a part where having an actor play against type could add an extra layer of sinister, just in that it would make the character's surprising psychosis that much more effective. Now that How I Met Your Mother if officially over and done with, now is the time for Neil Patrick Harris to really start focusing on his film work, and Strangers on a Train could be perfect for him.
Toby Kebbell
Despite the fact that he already has a good number of blockbusters on his resume, English actor Toby Kebbell isn't exactly a household name just yet – but it may just be a matter of time before he is. Last year he was incredibly impressive doing motion capture work as the villainous Koba opposite Andy Serkis in Dawn of the Planet of the Apes, and the next couple months and years will see him in massive projects like The Fantastic Four, Warcraft and the Ben-Hur remake. His star is certainly rising, and now may be the perfect time for David Fincher to swoop in an attach him to play opposite Ben Affleck in Strangers on a Train. Kebbell has the talent to both play charming and dangerous, his British accent could be used as an interesting character affectation, and even the fact that he's a good 10 years younger than Affleck could be used to the story's advantage.
Anthony Mackie
Anthony Mackie exists on a level of "underrated" so great that it's inevitable he eventually gets a big starring role that blows us all away. Why can't that role be in David Fincher's Strangers on a Train? The guy has proven many times that he can generate tremendous chemistry with his co-stars – look no further than his work with Jeremy Renner in The Hurt Locker or with Chris Evans in Captain America: The Winter Soldier - and, perhaps more importantly, he has the ability to be both tremendously affable and deadly serious. It's true that we have not yet seen him get into that psycho killer sense of mind just yet, the closest perhaps being his role in Michael Bay's Pain & Gain, but given his talent level it's hardly a stretch to see how he might melt into that part.
Amy Adams
Just because Rosamund Pike has the Gone Girl connection doesn't mean that she could potentially be the only candidate to play a female version of Bruno Antony, and Amy Adams would honestly be another great choice to turn the villain into a more femme fatale type. Adams has been consistently putting out great work for years now, but one area where she has always been somewhat stuck is playing more innocent characters. With the opportunity to work with David Fincher on Strangers on a Train, she could completely change that. Imagine her taking the role one step beyond her work in American Hustle, being charming and duplicitous with an added and highly-enhanced killer instinct. It might wind up be a strange pairing with Ben Affleck, given her role as Lois Lane opposite his version of the Caped Crusader in Zack Snyder's upcoming Batman v Superman: Dawn of Justice, but it's also not hard to imagine them working well together in antagonistic roles.
Assistant Managing Editor
NJ native who calls LA home and lives in a Dreamatorium. A decade-plus CinemaBlend veteran who is endlessly enthusiastic about the career he's dreamt of since seventh grade.
Your Daily Blend of Entertainment News
Thank you for signing up to CinemaBlend. You will receive a verification email shortly.
There was a problem. Please refresh the page and try again.