Safe House Director Daniel Espinosa Up For World War II Yakuza Thriller The Outsider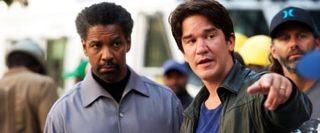 Swedish director made a huge impact in his native land with the crime thriller Snabba Cash, and got enough attention from Hollywood that the film was picked up for U.S. distribution. But Espinosa really seemed to come into his own with the recent Safe House, the Ryan Reynolds-Denzel Washington CIA thriller that opened surprisingly huge and only got better from there-- it's made $144 million worldwide so far, and establishes Espinosa as the guy with the potential to be the next Tony Scott-esque action director.
He'll get a chance to prove it again pretty soon, too. Deadline reports that Espinosa is in negotiations with Warner Bros. to direct The Outsider, a period action drama about a POW in Japan who goes to work for the gangster organization the Yakuza. The script is written by Andrew Baldwin, who is also writing the Logan's Run remake for Nicolas Winding Refn and Ryan Gosling; The Outsider made last year's Black List of favorite unproduced screenplays, and with an irresistible premise like that one, it's not hard to see why.
Safe House wasn't the most impressive action movie I've seen-- and at times Espinosa's serious Tony Scott influence seemed to overwhelm his ability to actually tell a story-- but the guy clearly shows a lot of promise, and moving on to another action movie, but with a really interesting premise, sounds like the right move at this point. A World War II story that involves Japanese gangsters definitely sounds like the kind of action movie I want to see.
Staff Writer at CinemaBlend
Your Daily Blend of Entertainment News
Thank you for signing up to CinemaBlend. You will receive a verification email shortly.
There was a problem. Please refresh the page and try again.