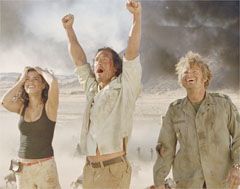 Moviegoers have been sending Hollywood a message at the box office this year. It's hard to know exactly what that message is, but it entails lower ticket sales and, as a result, a lot of movies aren't recooping their budget. You'd think that would make studios rethink their positions on greenlighting certain sequels. Sahara helmer Breck Eisner feels pretty good about his chances though.
In Eisner's own words, "You know, we've done well [at the] box office and we want to continue to do well on DVD. And if all things do go well, because it's an expensive movie, then we will do another one. There are 18 books so we have a lot of source material to pull from".
Hmmm. I don't know what color the sky is in Eisner's world, but in reality Sahara, budgeted at $130 million, only made $70 million dollars in the US and $50 million abroad leaving the project $10 million dollars in the hole and that doesn't even begin to cover marketing expenses. DVD revenue will likely help swing Sahara back into the black, but it will hardly qualify in my mind as "doing well".
Despite the financial challenges a Sahara sequel will have to face, all the other pieces are in place. According to Moviehole.net film rights to several Dirk Pitt novels have long been purchased and the script for Sahara 2 is already in the works. Key members of the cast including Matthew McConaughey, Steve Zahn, Bill Macy, and Rainn Wilson are all contracted for the project. Eisner is hoping to direct.
Your Daily Blend of Entertainment News
Thank you for signing up to CinemaBlend. You will receive a verification email shortly.
There was a problem. Please refresh the page and try again.