A Salute To The Movie Scene Stealers Of 2013 So Far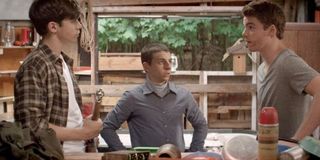 So far this summer we've felt spoiled for choice when it comes to gonzo, over-the-top spectacle. We've seen sprawling Iron Man battles, attacks on ninja mountain, breathtaking space jumps, dazzling bacchanal, and all the madness that was Fast and Furious 6. But this week sees the release of one of our most anticipated summer movies, Kings of Summer. And though it provides none of the insane level of action of its big budget competitors, this heartfelt indie comedy does offer one of the most winsomely scene-stealing performances of the summer.
Kings of Summer was first a hit at Sundance, and since then buzz has been building about director Jordon Vogt-Roberts' sensational first feature. Centered on three teen boys who run away into the wilderness to construct their own house and make their own rules, its story allows for plenty of shenanigans. But all the best lines go to a bizarre boy named Biaggio.
Played by former Hannah Montana star Moises Arias, Biaggio is a boy who is deeply different from his peers. He asks his father for advice in a mode that seems straight from a Fellini movie or a telenovela. He buys new clothes to live in the woods for a summer, but leaves on a telltale size sticker. He considers himself genderless and measures travel distance by how much he and his companion have bonded. He's almost too strange to fit in this otherwise grounded movie, but Arias' nails the portrayal of the weird kid we all knew growing up. You know, the one who just showed up where you were going without being invited? The one who meant well, but said the oddest things in casual conversation? That's Biaggio.
While there's plenty to praise about Kings of Summer, it's Arias' comedic sidekick that will make this movie most memorable. He's Alan in The Hangover or Megan in Bridesmaids. And hopefully, like their performers, Zach Galfianakis and Melissa McCarthy, we'll be hearing much more from this young comedic actor soon. But Arias is not the only spotlight stealer this summer! The first came in the form of G.I. Joe: Retaliation's Storm Shadow.
Sure, this side-switching ninja appeared in G.I. Joe: Rise of the Cobra too, but who can remember that movie? It's here in Retaliation that the franchise's filmmakers realized what they had in South Korean star Byung-hun Lee and went for it! Besides giving Storm Shadow an emotional subplot of his own, and putting him at the center of the movie's most outrageous action set piece (unofficially known as Ninja Mountain), they also recognized Lee's leading man potential. His biggest moment to shine is undoubtedly when he leads a mostly one-man assault on the prison that holds Cobra Commander. It's a prison so deep in the Earth it's in international territory (think about that a sec.) And Storm Shadow makes it fall under his mighty martial arts! Also annihilated? His shirt, that explodes off of him from sheer muscle madness.
Besides playing Storm Shadow, Lee has fronted such eye-catching South Korean offerings as Kim Jee-woon's The Good, the Bad, and the Weird and I Saw the Devil, a cat-and-mouse thriller that seems ripe for an English-language remake…possibly with him reprising his role as vengeance-seeking special agent? With so many of Hollywood's actions stars aged out of their prime, it's about time we brought in some new blood. And Lee has got the physical prowess, swoon-worthy good looks, and steely charm to shoulder a slick and showy actioner. Next up, he'll have a supporting role in Red 2 opposite Bruce Willis (once again). Here's hoping by 2014 we'll be seeing him off the sidelines and fully in the spotlight. And maybe with his shirt off more times.
And last but not least in our most exciting summer scene-stealers is a Fast & Furious 6's Han. Though the unflappable and streetsmart character has been around since Fast & The Furious: Tokyo Drift (AKA Fast 3), he really had his moment to standout this time around. Even amongst a charisma-stacked ensemble that includes Dwayne Johnson, Vin Diesel, Gina Carano, Michelle Rodriguez, Tyrese Gibson and Ludacris, it's Georgia-born actor Sung Kang who gave us the most feels on this adventure. Part of it was the evolution of Han's romantic relationship with "family" member Gisele (Gal Gadot). As the two perfectly timed one fight after another to watch each other's backs whatever the stakes, we fell hard (Oof. Too soon?)
While the Fast and Furious movies are built with bunches of flashy dialogue, Han never needed many lines to win our attention or affection. He's arguably the least showy of the group, and yet Furious 6 has us pining for a Han and Giselle spin-off movie. Of course, that would probably be shot after James Wan's Fast & Furious 7, but be set between Fast Five and Furious 6. Still, with the way Lin has created a fluid filmic universe for the series that allows it to shift tone yet remain connected, this seems totally doable. Or maybe—as was suggested on Op Kino—Lin could be considered for Star Wars 8, and Han (a character created pre-Tokyo Drift in Lin's Better Luck Tomorrow) could be brought into the Star Wars universe. After all, his full name is Han Seoul-oh.
Your Daily Blend of Entertainment News
Staff writer at CinemaBlend.