Sam Raimi Fights For The Evil Dead Rights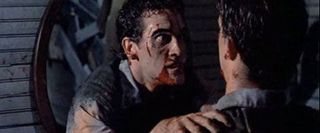 Evil Dead writer-director Sam Raimi's Renaissance Pictures reboot of the classic 1980s horror film has been threatened, as upstart Award Pictures has filed an objection, calling into question the production company's copyright claim. At the outset this is odd as Renaissance was formed in 1979--by Raimi, Bruce Campbell and producer Robert Tapert—for the expressed purpose of producing The Evil Dead. But things just get stranger as Award Pictures claims Renaissance surrendered its rights to the property since Tapert and Raimi were quoted in the 2000 book The Evil Dead Companion as saying, "We're never going to do a sequel."
THR reports that Award Pictures, which is working on an Evil Dead sequel of their own, charges "This statement is a public declaration by the defendant that the defendant abandoned the alleged 'mark,' Evil Dead, decades ago." And so Award Pictures argues to the U.S. Trademark Office Trademark Trial and Appeal Board that their sequel, daringly titled Evil Dead 4: Consequences, be awarded the copyright as a prior user as its patent claim was filed before Raimi's reboot.
It's a bold declaration to say the least, and Raimi and Renaissance are suing to settle the matter. They counter that The Evil Dead property has not been abandoned, but rather has thrived through its two Renaissance-produced sequels, Evil Dead II and Army of Darkness, as well as through the licensing of Evil Dead video games, action figures, comic books, clothing and other memorabilia. All elements Renaissance argues that have kept the brand in consumers minds, backed by the fact that the original still screens in theaters. Renaissance's lawsuit further accuses Award Pictures of purposely setting out to confuse consumers by essentially ripping off the Evil Dead name with their Evil Dead 4, and insists the film "would inevitably infringe Renaissance's copyright rights in The Evil Dead."
Basically, while Award is petitioning for the rights to Evil Dead and thereby threatening Raimi's in-development reboot, Renaissance is demanding the courts issue an injunction against the brazen production company's creation of Evil Dead 4: Consequences, and is suing for monetary damages on the grounds of trademark infringement, false advertising and injury to business reputation. While it's unclear how this peculiar copyright battle will end, it appears Renaissance's reboot-backers Sony Pictures Worldwide Acquisitions and FilmDistrict have faith in their case as Coming Soon reveals principal photography on the picture has begun in Auckland, New Zealand. This Evil Dead is expected to wrap in early July.
Staff writer at CinemaBlend.
Your Daily Blend of Entertainment News
Thank you for signing up to CinemaBlend. You will receive a verification email shortly.
There was a problem. Please refresh the page and try again.