Sam Worthington Aims For Hitman Thriller Hunter's Prayer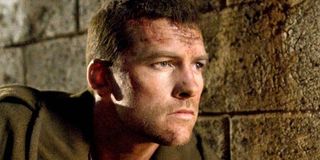 We're about to lose Sam Worthington for a couple of years. Soon, he'll be headed back to Pandora for a set of Avatar sequels, losing himself in James Cameron's fanciful world of cat people and uncaring military types. But first, the guy's gonna cram some real acting roles in there, and one of them is that old standby: the hitman.
Sam Worthington will be starring in Hunter's Prayer, according to Screen Daily. Formerly going by the title For The Dogs (yikes, terrible title), this action thriller should sound mighty familiar to anyone fond of scouring the direct-to-DVD bin. Worthington will play an assassin assigned to kill a beautiful young girl. Once he decides he can't go through with it (because he has a penis), the two of them go on the run and learn exactly why she's being targeted and by whom. At $25 million, this is basically the mid-budgeted version of Jupiter Ascending . Which is awesome, because Sam Worthington would look great with elf ears.
This comes from director Jonathan Mostow, who has been out in the wilderness for awhile. He previously directed Terminator 3: Rise Of The Machines, which benefited from later seeming much better than Terminator Salvation by comparison. Sadly he could only leverage that gig into directing a more-surly-than-usual Bruce Willis in Surrogates and has only worked on TV since. The movie will shoot in Hungary and the UK, so Mostow is a bit far afield of Hollywood.
The film, which apparently was going to co-star Emma Roberts or Hailee Steinfeld before both balked, has got a colorful group of writers behind it as well. Mostow reunited with John Brancato and Michael Ferris, his Terminator 3 and Surrogates writers (who, never forget, also brought us Catwoman and are currently in charge of XxX: The Return of Xander Cage ). Also having a hand in the screenplay is Paul Leyden, who recently wrote the John Cusack thriller The Factory. And because not enough names were already attached to this script, it's also been in the hands on Oren Moverman, who previously wrote and directed critically-acclaimed movies like The Messenger. Oren Moverman gotta eat. This foursome is adapting the book For The Dogs by Kevin Wignall.
As for the premise, well... Mostow was always a promising action director, but with a $25 million budget, this just feels like something a bit more downmarket and not too exciting; the type of thing that would get Nicolas Cage's spider-sense tingling. The script does seem like it's been in the hands of some highly regarded writers, which is promising, though Moverman, an extremely talented writer-director, has previously lent his talents to forgettable for-hire stuff like The Quiet Ones.
This thing lives or dies on two elements. One, why exactly does someone need to pay to kill this girl? Who is she, and what is her family involved in? And two, how worthy will Worthington be in it? Will he have a real character to play, or will he just be another action figure?
Your Daily Blend of Entertainment News
Your Daily Blend of Entertainment News
Thank you for signing up to CinemaBlend. You will receive a verification email shortly.
There was a problem. Please refresh the page and try again.