San Francisco Critics Reward Hometown Hero Milk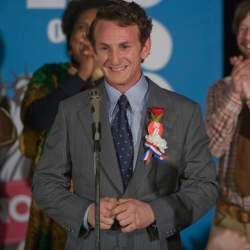 Unsurprisingly, the San Francisco Film Critics Circle heaped many of their honors on Milk, the biopic about hometown hero Harvey Milk. Gus Van Sant's film won Best Picture, Best Director, Best Screenplay for Dustin Lance Black, and Bes Actor for Sean Penn, who shared the honor with The Wrestler's Mickey Rourke.
It probably says a lot in favor Heath Ledger that the group bypassed the many deserving supporting actors from Milk to hand the Joker their award. The Dark Knight got a deserved nod for Wally Pfister's cinematography, making the San Francisco bunch one of the few critic's groups to hand Batman some much-deserved hardware. The group actually made a number of refreshingly unusual decisions, which I guess speaks to the spirit of Harvey Milk himself. Check out the full list of their awards below, taken from the group's website.
Best Picture
"Milk"
Best Director Gus Van Sant, "Milk"
Best Original Screenplay
Dustin Lance Black, "Milk"
Best Adapted Screenplay
Peter Morgan, "Frost/Nixon"
Best Actor
TIE: Sean Penn, "Milk"
TIE: Mickey Rourke, "The Wrestler"
Best Actress
Sally Hawkins, "Happy Go Lucky"
Best Supporting Actor
Heath Ledger, "The Dark Knight"
Best Supporting Actress
Marisa Tomei, "The Wrestler"
Best Foreign Language Film
"Let the Right One In"
Best Documentary
"My Winnipeg"
Best Cinematography
Wally Pfister, "The Dark Knight"
Marlon Riggs Award for courage & vision in the Bay Area film community
Rob Nilsson, filmmaker, in recognition of his 9@NIGHT series of films
Staff Writer at CinemaBlend
Your Daily Blend of Entertainment News
Thank you for signing up to CinemaBlend. You will receive a verification email shortly.
There was a problem. Please refresh the page and try again.