Sarah Michelle Gellar Tries To Kick The Bucket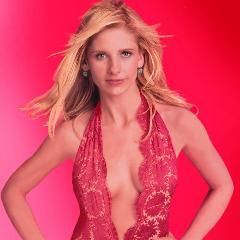 Well, we all know Buffy had her adventures with the afterlife, but most of us don't think of Sarah Michelle Gellar as a dark or particularly sad kind of actress. She's too blonde! She's married to Freddie Prinze Jr.! But it seems that Sarah's trying to break out of that mold, and will star in the indie drama Veronika Decides to Die. Variety reports that she'll play a woman who has attempted suicide several times, but regains her will to live when she finds out she has an irreparable heart condition—as a result of her suicide attempts.
Sounds totally cheery, right? Honestly it seems difficult to pull this kind of movie off—so the concept is that the character dies in the end no matter what, right? Of course, plenty of great movie characters have died within the first 10 minutes and that didn't make them any less appealing. Is Sarah Michelle Gellar really up to playing a "great movie character" though?
I hate to doubt the girl, since I know she has legions of Buffy fans who believe she can do anything and everything. But this kind of screams of a major star trying to jump-start her career by starring in a "dark" indie. We'll have to see how it turns out, though, lest the Buffy devoted beat me up in some dark alley.
Your Daily Blend of Entertainment News
Staff Writer at CinemaBlend