Saw VI Director Hired To Make Paranormal Activity 2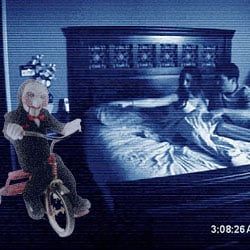 The demon of Paranormal Activity and Jigsaw of the Saw series are joining forces to scare the crap out of you this Halloween. Well, not literally, but THR reports that Paramount has hired Saw VI's Kevin Greutert to direct Paranormal Activity 2. Ironically, it's set to hit theaters during the coveted pre-Halloween weekend, the weekend dominated by a Saw film for the past five years. In 2009, Paranormal dethroned Saw with $22 million compared to Saw VI's measly $14.8 million.
The studio hired TV writer Michael R. Perry to pen the script. Don't worry, the original mastermind, Oren Peli, isn't out of the loop. He'll be reuniting with Jason Blum, to co-produce the sequel.
Now that it's happening, the big question is, can the little film that could do it again? The initial hype could send horror fans running to the theater opening weekend, but high expectations might be a long term killer. There's also the chance that Paranormal Activity 2 could be ambushed by leftover backlash from the original film. Considering the studio's plan to drop $1 million a year on 10-20 similarly styled mini-budget films and its commitment to release Peli's Area 51, Paramount has a lot riding on this film.
We'll be able to better judge the PA2's potential once details about the plot emerge. At the moment, the filmmakers are tightlipped about the storyline as well as the film's real title. With an October 22nd release date, we won't have much longer to wait for that information, let alone the film in its entirety.
Staff Writer for CinemaBlend.
Your Daily Blend of Entertainment News
Thank you for signing up to CinemaBlend. You will receive a verification email shortly.
There was a problem. Please refresh the page and try again.