Scandal's Tony Goldwyn Joins Divergent Cast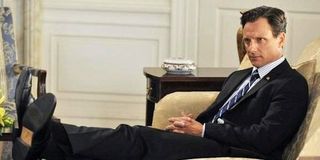 The latest bit of casting news for the feature adaptation of Veronica Roth's Divergent should be particularly exciting for those of us who tune in to Scandal each Thursday night - or fans of Tony Goldwyn in general, of course. Following word that Ashley Judd was joining the Summit's Divergent movie, to play the mother of Shailene Woodley's character Tris, comes confirmation that Tony Goldwyn will play Tris' father, Andrew Prior.
Divergent stars Woodley as Beatrice "Tris" Prior, a teen living in dystopian Chicago where society is broken up into five factions, which determine a person's way of life. When she comes of age, she must decide if she wants to stay in her family's faction - which is "Abgnetation," who are known to be the selfless people - or choose another faction. The story follows Tris as she makes her choice and begins her training. Before choosing her faction, Tris learns she's "Divergent," which is apparently a bad thing and means she'll never truly fit into an one group.
Just last week, we learned that Ashley Judd was joining the cast to play Tris' mother, one of the last major roles to be cast. Goldwyn will play her on-screen husband Andrew. The two stars join an already-promising cast of actors, which - in addition to Woodley - includes Theo James, Miles Teller, Zoe Kravitz, Ansel Elgort, Jai Courtney, Kate Winslet, Ray Stevenson and Maggie Q.
Scandal fans know Goldwyn for his starring role as President Fitzgerald, aka "Fitz," in Shonda Rhimes' steamy drama series. But Goldwyn also has a number of notable feature roles, including playing Carl in Ghost and Colonel Bagley in The Last Samurai. He's worked with Ashley Judd before, not only serving as the uncredited TV narrator in the 2001 romcom Someone Like You, but also appearing in the adaptation of James Patterson's Kiss the Girls.
Divergent is currently filming in Chicago and is expected to arrive in theaters March 21, 2014. So there's still plenty of time to read Roth's book before the film hits theaters.