The Scarface Remake Has Forward Momentum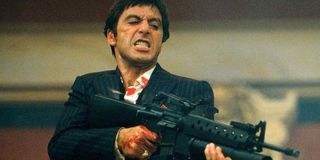 After years of planning, it appears that the proposed remake of Scarface is finally getting its proverbial helicopter off the ground to drop its noose-tied captive. After about a year of inertia, it is being reported that a new scribe has been assigned to the film to do a rewrite of the existing script. From the look of things, the iconic 1983 film that lets law-abiding folk like us point our fingers and say "that's the bad guy" will get its remake, soon enough.
According to The Hollywood Reporter, bourgeoning screenwriter Jonathan Herman has been brought on board to overhaul the long-gestating script for the Scarface remake, first penned by David Ayer, only to be re-worked by Paul Attanasio in late 2012. Herman, now responsible for the second major re-write, is coming off possible momentum from his work on the script for the upcoming film, Straight Outta Compton, a biopic on the iconic rap group, NWA. That film, which is set to release in August, is currently his only official professional film credit.
Straight Outta Compton has been making waves with insiders and it's clear that the film could be a big deal with an audience that this Scarface remake will need to grab in order to make financial sense. Despite the rather lonely single entry in his resume, Jonathan Herman is clearly seen as someone with the right narrative gravitas and a firm grip of the gangster mindset that will be so critical to the film's pathos.
In the case of this property, which first took shape with the 1932 film of the same name, it was the uber-violent, over-the-top, 1983 remake starring Al Pacino that mostly set the template by which the property is widely perceived. While that film is celebrated by a wide array of demographics, it has been especially embraced by hip-hop culture as kind of a Modern Greek tragedy of sorts, imbued with understandable sensibilities of protagonist Tony Montana (Pacino), whose pride and honor transform him into a lustful monster who perpetually craves power for the sake of power. Yet, despite his glaringly fatal flaws as a person, he is shockingly relatable.
It's unknown as to why this script has become somewhat of a hot potato to have been passed around so much over the past few years. However, Chilean director Pablo Larrain has been locked down to helm the film for a year, at this point. His experience with Latin-American-themed political drama is looking to be synthesized with the Straight Outta Compton sensibilities for this remake film that will reportedly shift away from the famous film's Cuban-centric Miami setting into the world of Mexican drug cartels.
It will be interesting to see how this remake takes shape and how much it pays tribute to Brian De Palma's crazed, classic embodiment of neon-hued 1980's excess. However, the characters and themes of this property may be subject to the whims of quickly changing fashions and attitudes. While the film won't be a direct remake of the influential Al Pacino romp, we should probably expect it to be a timely (probably less-quotable) statement of some kind about the drug trade culture. At the moment, no plans have been set for the film.
Your Daily Blend of Entertainment News