Scarlett Johansson Making Her Directing Debut With Truman Capote Adaptation In 2014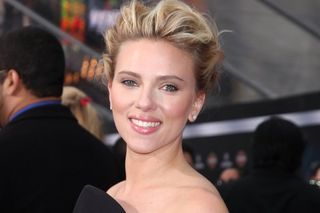 Scarlett Johansson could have easily spent the last 10 years of her life resting on her laurels as a sex symbol and favorite muse of directors like Woody Allen (and now, maybe, Joss Whedon). But the actress has done a pretty impressive job of stretching herself, whether recording an album, helping earn an Oscar nomination for the original song from Chasing Ice, doing her best Janet Leigh impression in last year's Hitchcock, and making us believe her so much as an action heroine in The Avengers that we basically begged her to play Wonder Woman.
Now she's working to develop her skills behind the camera too, finally ready to make her feature directing debut on Summer's Crossing, an adaptation of Truman Capote's novel. She picked up the rights a full year and a half ago and today THR announces from Cannes that the international rights are being sold at the Cannes Film Market, with plans to start production in early 2014. The story, which was never published and believed lost until 2004, follows a 17-year-old New York City socialite who falls for a lower-class Jewish boy, just as World War II is concluding in 1945.
Adapting a novel by a great writer-- even a novel believed to be inferior to what came later-- is a huge challenge, and that goes double when it's your feature directing debut. But anyone who can stop fixating on Johansson's physical gifts for a minute can notice she's always been up for a challenge.
(Scarlett Johansson image via Joe Seer (opens in new tab) / Shutterstock.com (opens in new tab))
Your Daily Blend of Entertainment News
Staff Writer at CinemaBlend
Your Daily Blend of Entertainment News
Thank you for signing up to CinemaBlend. You will receive a verification email shortly.
There was a problem. Please refresh the page and try again.