Scarlett Johansson May Be Black Widow In Iron Man 2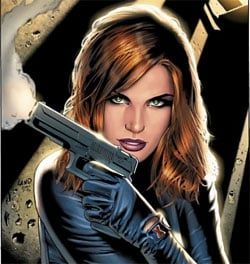 Scarlett Johansson could end up in Iron Man 2. No she won't be wearing sexy, thong, iron underwear. Nice dream though.
Instead EW says she's in talks to replace Emily Blunt. Blunt had been lined up to play the part of a Russian superspy named Natasha Romanoff, who moonlights as the Black Widow. Emily is still trying to work things out, apparently there's some conflict with her commitment to do a Gulliver's Travels movie for Fox, but if she can't Scarlett may be ready to step in.
I'm not sure that's a good thing really. I love the idea of Emily Blunt as the Black Widow. Perfect casting. Scarlett, while she's fun to look at, not so much. Emily's not just a better actress (well she is), she also fits the Russian spy type better.
Your Daily Blend of Entertainment News
Thank you for signing up to CinemaBlend. You will receive a verification email shortly.
There was a problem. Please refresh the page and try again.