Scream 4 Clips: Sidney Passes The Torch To Emma Roberts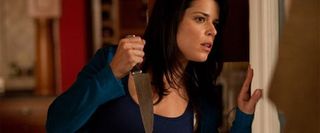 Scream 4 is mere weeks away from unspooling in theaters, and that means we're starting to get a more accurate picture of what to expect from the film. Expect a lot of torch passing.
In the new franchise entry previous cast members team up with a new batch of potential victims to fight off the ever-present Ghostface Killer. In these three new clips from the film, you won't see a lot of Ghostface, but you will see a lot of familiar cast members rather obviously turning things over to the new generation of Scream actors. In particular you'll see Sidney Prescott tell Emma Roberts how much she reminds her of herself, and you'll see Courtney Cox team up with a bunch of pimply, high-school journalism students who seem to think she's a serious MILF.
Watch:
Scream returns to theaters with a fourth franchise entry on April 15th. For more on the film just visit its page in our Blend Film Database.
Your Daily Blend of Entertainment News