Scream 5 Could Kill The Film Series, Not The TV Series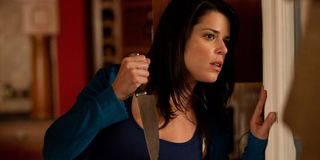 11 years after Scream 3 premiered, Wes Craven returned to Woodsboro to torment Sidney Prescott and the gang one more time. In 2011, Scream 4 pulled audiences back into theaters to the tune of $97 million worldwide, and brought in untold wealth to Dimension Films and The Weinstein Company in the resurgence of fans buying the first three. So Scream 5 and even Scream 6 seemed inevitable. But it's 2013, so what's the deal?
Well, Harvey Weinstein still wants Scream 5 to happen. As reported by Indiewire, he confessed as much at the Zurich Film Festival Masterclass, saying he's pushing his brother Bob, who runs Dimension Films, to get it going:
It's true. Despite all odds, survivor Sidney, dopey Deputy Dewey, and danger junkie Gale Weathers all pulled through this latest brush with Ghostface. Yet it sounds like if Harvey has his way, this series will end with these heroes being put down for good. The fates of the Woodsboro trio are far from sealed as the last news on Scream 5 stated that screenwriter Kevin Williamson had a plan for a trilogy, but no actual script for the fifth installment had yet been penned. This was just a month after Scream 4 opened, when Craven offered that another Scream was a possibility, but he was taking a breather first.
Craven's contract with Dimension demands that any Scream sequel must be offered to him before any other director. With two years having passed, maybe this horror auteur is ready to jump back in the blood-splattered saddle? But aside from Harvey's enthusiasm, there's no sign that Scream 5 has any forward momentum. Thankfully, there is the upcoming spin-off TV series to satisfying Scream fans' blood lust.
Last spring, MTV greenlit a pilot for the Scream series, but the studio was being stingy on details of how the scary show would relate to its movie source. Shock Till You Drop has since uncovered a report that the TV drama will serve as "a new beginning" for the story we all know, which seems to suggest reboot. But a definite difference from the film series is that this Scream will include a supernatural element. While purists will likely sneer at this addition, it seems a pretty smart move as supernatural horror is a pretty big trend on television right now, from American Horror Story to Grimm and the newly debuted Sleepy Hollow. Production on the Scream series is expected to begin next year. As for Scream 5, it's still a possibility, but I wouldn't hold your breath.
Your Daily Blend of Entertainment News
Staff writer at CinemaBlend.