Screen Actors Guild Awards No Country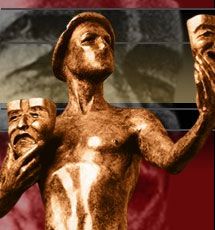 We still don't know whether or not the Writers Guild strike will torpedo the Oscars the way it did the Golden Globes, but the WGA seems to have no problem letting some of the more minor awards ceremonies go forth unmolested by picketers. Tonight the 14th Annual Screen Actors Guild Awards were presented live on TNT, and it was No Country For Old Men which came up big.
The latest Coen Brothers masterpiece scored two wins, which might not seem like a lot, but is when you consider that SAG only has 6 film awards. No Country For Old Men locked up a third of all possible wins.
In television, it was NBC that came up big, with multiple, much deserved wins for The Office and 30 Rock.
Here's the full list of this year's SAG Award winners. Find out what actors other actors think gave the best performances in 2007:
Film
Outstanding Performance by a Male Actor in a Leading Role
DANIEL DAY-LEWIS / Daniel Plainview – There Will Be Blood (Paramount Vantage)
Outstanding Performance by a Female Actor in a Leading Role
JULIE CHRISTIE / Fiona – Away From Her (Lionsgate)
Outstanding Performance by a Male Actor in a Supporting Role
JAVIER BARDEM / Anton Chigurh – No Country For Old Men (Miramax Films)
Outstanding Performance by a Female Actor in a Supporting Role
RUBY DEE / Mama Lucas – American Gangster (Universal Pictures)
Outstanding Performance by a Cast in a Motion Picture
NO COUNTRY FOR OLD MEN (Miramax Films)
Outstanding Performance by a Stunt Ensemble in a Motion Picture
THE BOURNE ULTIMATUM (Universal)
Television
Outstanding Performance by a Male Actor in a Television Movie or Miniseries
KEVIN KLINE / Jacques – As You Like It (HBO)
Outstanding Performance by a Female Actor in a Television Movie or Miniseries
QUEEN LATIFAH / Ana – Life Support (HBO)
Outstanding Performance by a Male Actor in a Drama Series
JAMES GANDOLFINI / Tony Soprano – The Sopranos (HBO)
Outstanding Performance by a Female Actor in a Drama Series
EDIE FALCO / Carmela Soprano – The Sopranos (HBO)
Outstanding Performance by a Male Actor in a Comedy Series
ALEC BALDWIN / Jack Donaghy – 30 Rock (NBC)
Outstanding Performance by a Female Actor in a Comedy Series
TINA FEY / Liz Lemon – 30 Rock (NBC)
Outstanding Performance by an Ensemble in a Drama Series
THE SOPRANOS (HBO)
Outstanding Performance by an Ensemble in a Comedy Series
THE OFFICE (NBC)
Outstanding Performance by a Stunt Ensemble in a Television Series
24 (FOX)
Screen Actors Guild Awards 44th Annual Life Achievement Award
Charles Durning
Your Daily Blend of Entertainment News