Scrooged Coming To Blu-Ray, Says Bah Humbug To Bonus Features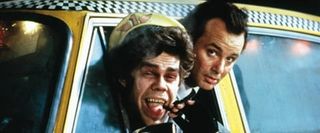 Is the classic Bill Murray/Richard Donner take on Charles Dickens' "A Christmas Carol" a movie that needs to be on Blu-ray? Not necessarily. Scrooged had its share of special effects, but it's not like we're dealing with Die Hard here. Nonetheless, Scrooged on Blu-ray is awesome for at least one reason: it's an excuse for people (namely, me) to finally get around to buying Scrooged. We'll get the chance to do exactly that this November 1st.
Scrooged, if you haven't had the pleasure, casts Murray as heartless network TV exec (redundant?) Frank Cross who finds the universe intervening on his behalf one holiday season. You know the story, you know what to expect: ghosts, time travel, and the inevitable redemption. The appeal here is that it's happening to Bill Murray in his prime, alongside a cast that includes Karen Allen, John Forsythe, Bobcat Goldthwait, and Robert Mitchum.
Unfortunately, Paramount Home Entertainment has left a lump of coal in our stocking when it comes to bonus features. Specifically: there aren't any. Nary a featurette or cast interview, not even any recycled press junket footage from back when the movie first came out. Oh, wait, they do include the "theatrical trailer," which is nice of them. I know that's where I draw the line when it comes to DVD purchases. No theatrical trailer? Then I don't want it!
But seriously, Scrooged on Blu-ray is great news. It just would have been better news with a few extras thrown in. As it stands, we'll just have to make do with Frank Cross and a trio of memorable spirits. Scrooged hits Blu-ray on November 1st, for a list price of $19.99.
Your Daily Blend of Entertainment News