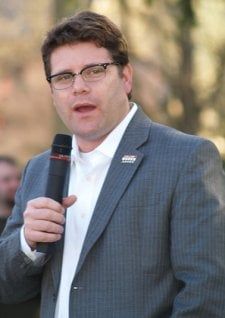 I love the movie Rudy. Watching Sean Astin's Rudy run onto the field for old Notre Dame and make a big tackle to show his dad and brother that anyone can do something if they are willing to get the crap kicked out of them in practice for two years is very moving. Plus, Jon Favreau played D-Bob! So whatever happened to old Rudy after he got carried off the field in that final game? Who knows, but Astin became a tire salesman who gets sent to the secretarial pool for being a big douche.
According to HR, Astin and former Alias star Michael Vartan will star with David Cross in Demoted. Astin and Vartan play tire salesman who play pranks on Cross. Unfortunately, Cross gets promoted and ends up demoting (hence the title) the pair into secretarial jobs. Now that's comedy! He also forces them to kiss each other and to bring him jello with fruit at the bottom to work every day. Not really. In fact, I can't tell from the released summary if Astin and Vartan are the good guys or the bad guys. I think they are supposed to be the good guys, but they sound like a pair of tools who got what they deserved.
Hottie Sara Foster will play Astin's wife and nottie Celia Weston is the head secretary at the tire store. How many secretaries does one tire store need? Three seems like a lot, doesn't it? The movie was written by Dan Callahan and will be directed by J.B. Rogers who has done a lot of second unit work and a few television movie gigs. I must say that despite Cross and Astin, I'm not sure I'll be looking hard for this when it makes it onto Netflix in a couple of years.
Your Daily Blend of Entertainment News