Sean Bean Signs On To Star In The Devil's Peak Trilogy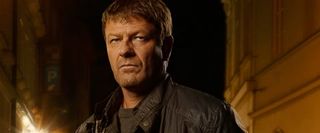 Sean Bean is a wonderful actor and even though he's tough enough in real life to shake off a stabbing and have another pint, his characters seem to have a tough time making it out of the given project alive. In fact, it's hard to think of a major film or television series in which Bean didn't suffer some untimely end a la (SPOILERS) GoldenEye's 006, Lord of the Rings' Boromir, or, even more recently, Missing's Paul Winstone. Obviously, this is an exaggeration but it is still nice to see him land a project that seems to offer him a character with some stability.
Well, stability in respect to 'staying alive' anyway since the actor has just signed on for the lead role in the first book in Deon Meyer's "Devil's Peak Trilogy." Variety reports that Bean will star as Detective Benny Griessel in the cinematic adaptation of the book series that starts with Devil's Peak. Griessel is a recovering alcoholic who is trying to win back the trust of his family as well as solve the case of a vigilante killer with a rapidly rising body count. And I don't want to jump to any conclusions but since this is the first of a planned trilogy (the followup novels include Meyer's "13 Hours" and "7 Days") the actor might finally make it out of this one alive! Who am I kidding, he's probably doomed.
The first novel (and the ensuing trilogy) is named after the famous mountain range in Cape Town, South Africa where the stories are set. Principal photography is scheduled to take place in September. Malcolm Kohll joins Ofir Kedar as well as Michael S. Murphey's Kalahari Pictures in producing Devil's Peak, and it's worth noting that the later had a hand in bringing us the last major South African hit in Neill Blomkamp's District 9. Could they have another breakout on their hands? When asked about why he's behind the project, Kohll said that "I believe Deon Meyer will do for the South African thriller what Stieg Larsson did for the Scandinavian crime novel." And while I respect his optimism but let's not get ahead of ourselves.
Here's the "Devil's Peak" official synopsis, via Deon Meyer's website:
Your Daily Blend of Entertainment News
Thank you for signing up to CinemaBlend. You will receive a verification email shortly.
There was a problem. Please refresh the page and try again.