Seann William Scott's 5 Favorite Movies Probably Aren't Ones You Would Guess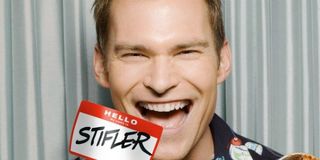 Seann Williams Scott (aka Stifler from American Pie, aka Doug Glatt from Goon) is a cinephile. You might not've guessed that, considering his acting choices haven't been, shall we say, high caliber. Nonetheless, he loves movies, so picking his top five choices is as difficult as picking your favorite food — depending on his mood, the order and selection changes. Recently, he revealed his favorite films with this stipulation, but even then, they seemed a bit out-of-the-ordinary for the Stifmeister.
During a Reddit AMA on Wednesday, Scott was asked to name his top five favorite films. At the time, he said these were at the top of his head at the time of the question:
1. The Inheritance, directed by Per Fly
2. Talk to Her, directed by Pedro Almodóvar
3. Betty Blue, directed by Jean-Jacques Beineix
4. Open Hearts, Susanne Bier
5. Chopper, Andrew Dominik
Who knew Stifler had such cinephilic tastes? All of these films are foreign selections and virtually unknown by your average moviegoer. The Inheritance (originally titled Arven) is a Danish film, starring Ulrich Thomsen (Mortdecai, Cinemax's Banshee) as a man dealing with the death of his father and plagued by the pressure to take over the family business, despite his own desires.
Almodóvar's Talk to Her (Hable con ella) is another unexpected choice for a top five. The small Spanish film tells the tale of two men, Benigno and Marco, who form an unlikely bond as they both care for women in comatose states: Marco's girlfriend is a bullfighter gored by a bull, and the other is a ballet student in Benigno's care.
Betty Blue (37°2 le matin) is a film from 1986 that stars French actor Jean-Hugues Anglade as handyman Zorg. He's living a pretty normal life, writing in his spare time, when a beautiful woman walks into his life and brings her crazy with it. After the honeymoon stage, he sees her unleash her insanity, setting fire to his home, stabbing other women with forks and throwing paint on cars.
A Dogme 95 film, Open Hearts from Denmark is more of a lovers' triangle (or, rather, square) pic. After a man is paralyzed in a car accident, his engagement begins to fall apart as his fiance falls for the husband of the woman who caused the accident. This one has Mads Mikkelsen in it, so at least there's one familiar face.
But out of all of these picks, Williams said that Chopper, an Australian film, is one of his favorites. Eric Bana plays Mark Brandon "Chopper" Read, a criminal who famously wrote his autobiography while in prison. The result, "From the Inside," served as the basis for the film.
When you think of Scott, you think of his first feature film, American Pie, followed by films like Road Trip, Dude, Where's My Car?, The Dukes of Hazzard and Goon. It's good to know his interests expand beyond the realm of raunchy comedy.
Your Daily Blend of Entertainment News
Your Daily Blend of Entertainment News
Thank you for signing up to CinemaBlend. You will receive a verification email shortly.
There was a problem. Please refresh the page and try again.