See Awesome Old People Recreate The Most Famous Movie Posters Of All-Time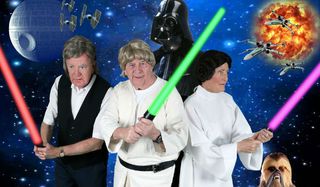 Fan-made movie posters are usually a hit or miss, that is until you get a bad-ass retirement home involved. The result of their fan-made-fun is undoubtedly awesome. Who ever said that your best years are when you're young was completely unaware of the fun that goes down in retirement homes. Because these older gentleman and ladies decided to put their love for film to good use, and recreate some of the most iconic movie posters for their yearly calendar. From Star Wars to Dirty Dancing to Psycho, it didn't matter which film, these older folks knew exactly what to do to recreate them perfectly.
The quirky new look at some of Hollywood's finest posters comes from a group of seniors living in Shenley Wood Retirement Village in Milton Keynes, England. Every year the residents create a charity calendar, and this year they decided to dress up as their favorite movie characters. The calendar contained iconic scenes and favorite films of the residents aged 64 to 93, and the proceeds from the calendar are used by the ExtraCare Charitable Trust to support activities that benefit all the residents living at the retirement village. Among the films were classics that grandparents love (Wizard of Oz!) and some surprisingly modern-yet completely necessary reenactments, such as this terrific Harry Potter poster (Hagrid!).
The calendar took less than six weeks to make thanks to the enthusiasm of all the participants, and the photos were taken by MRC Photo. You can purchase your own "The Golden Age Of Cinema" calendar here, and the proceeds will go straight to charity, helping these older folks continue having all the fun. But who needs any convincing? This is an absolute necessity for any film fanatic. To see more of the fabulous photos featured in the calendar, click over to the next page.
Your Daily Blend of Entertainment News
Thank you for signing up to CinemaBlend. You will receive a verification email shortly.
There was a problem. Please refresh the page and try again.