The Best Star Wars 7 Posters From Fans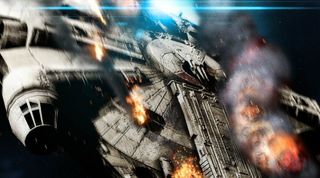 Fans don't yet know what's going to happen in J.J. Abrams' Star Wars: Episode VII. But that hasn't stopped them from taking the bits and pieces of information they've gleaned from interviews and news stories to create some of the coolest fan-made Episode VII posters around. A few have very distinct visual references and cues. Is there a budding Drew Struzan waiting to be tapped by Abrams to help promote next year's Star Wars sequel? Let's scan through a few of our favorite fan-made one sheets for the next Star Wars.
More Posters On Next Page >
Digital artist Sahin Duzgun has been hard at work at several different Star Wars: Episode VII posters, hosting them on Deviant Art. This elder Luke Skywalker is badass, but I'm singling out his torched Millennium Falcon image, which promises major problems for Han Solo's cherished ship – but also calls to mind this stark, memorable image J.J. Abrams used for Star Trek Into Darkness.
Too close? Possibly. But it's still a cool shot that instantly catches your eye and gets you fired up for the action sequences we hope Abrams is bringing to the Star Wars universe.
So many fans want Darth Vader back. It likely isn't happening. Right? But if it did, the above show (from rcrain98) would work perfectly.
It is too bad that Michael Fassbender didn't earn a role in Star Wars: Episode VII, because The Mad Butcher pegs him as an amazing Jedi!
Of course, we love our traditional Star Wars heroes, and the news that Luke, Han and Leia will be back in the fold delighted millions of fans. But we're also fascinated by the potential villains of Star Wars: Episode VII. Who will be the next Darth Vader? The next Palpatine? Rumors have focused on a new (old) group dubbed the Inquisitors – and possible leaked imagery got several online artists drawing. The above poster belongs to DarthTemoc, who also has created some outstanding Stormtropper-centric art. Is he blowing smoke? Or does Abrams really have something in store for the Inquisitors? We can't wait to find out.
More from The Mad Butcher, this one with a terrific Obi-Way vibe to it.
This one, from Twitter user GS_Galen, reminds me more of a horror-movie one sheet. Maybe it's that tagline, "The Evil Never Ends. Just Evolves." I expect to see Jason reaching for a new hockey mask, or Freddy grabbing his razor-enhanced glove. Instead, it's a cloaked figure (holding a blue lightsaber) reaching for a broken Darth Vader helmet. That is some serious fan-fic… but then again, there have been stories that Lord Vader might factor in to Episode VII. Possible?
Han Sagan came up with this awesome one. And given the fact that J.J. Abrams reportedly was looking to film in a snowy tundra, this one could actually happen on screen.
Classic. Harkens back to the old days. Uses "new" images of the familiar cast. Still, Darth Vader heavy. But still, a great throwback from drakomel777.
"The war has just begun" teases this amazing one-sheet from AncoraDesign. We're guessing that is Luke surveying some of the damage, given the green lightsaber. But if J.J. Abrams wants to introduce some new characters, this is a great start.
A lot of the one-sheet designs have to do with destruction. It's almost as if fans assume J.J. Abrams has to tear down the universe before he even gets a chance to build it up and play in it. If traditional pacing means anything, the "mess" will really hit the fan in Rian Johnson's Star Wars: Episode VIII. The middle chapters always bring the heartache. But if oroster has his or her way, a Destroyer will get sliced in half in Star Wars: Episode VII. What a cool image.
More destruction, courtesy of Dr. Retro on Twitter. The poor Millennium Falcon is taking a beating from the fans. But who is that supposed to be, standing next to the relic of the majestic ship? Send us your best guesses.
DarthTemoc again, and this one might be one of our all-time favorites. The zoomed-in image tells us just enough of what we need to know about Luke Skywalker. His grey beard suggests his age. The green lightsaber is his signature weapon. And it has been unleashed. Against whom? We'll know more on Dec. 18, 2015, when Star Wars: Episode VII opens in theaters nationwide.
Are there more fan-made posters that we haven't seen yet? Share them in the comments below.
Sean O'Connell is a journalist and CinemaBlend's Managing Editor. He's frequently found on Twitter at @Sean_OConnell. ReelBlend cohost. A movie junkie who's Infatuated with comic-book films. Helped get the Snyder Cut released, then wrote a book about it.
Your Daily Blend of Entertainment News
Thank you for signing up to CinemaBlend. You will receive a verification email shortly.
There was a problem. Please refresh the page and try again.