See David Spade's Touching Tribute To Tommy Boy On Its 20th Anniversary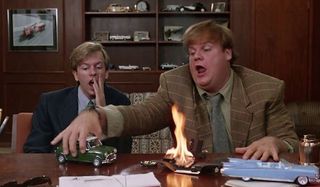 I know it's going to sound hard to believe but one of the more hilarious comedies of all time, Tommy Boy, is all grown up. Last night, the Chris Farley/David Spade buddy comedy officially turned 20, and to help pay the Peter Segal-directed film its respects, Spade posted to the web this touching little tribute.
The road trip comedy may have only grossed $32 million, but it is nonetheless a classic in the minds of many. That's why David Spade's above Instagram post paying tribute to the film's 20th anniversary, as well as to co-star Chris Farley, has struck a chord with fans of the film.
Does that mean we, too, are "older than fuck?" Why yes, I believe it does. Spade is right in saying he was very lucky to be in this movie, as Farley is one of the greatest comedic talents of our time. It's awesome to see him give props to the late funnyman, and all too cool to see such a touching piece of memorabilia. Farley's words "David, lets stick together" seem all too real, and I don't doubt for a second Spade's saying that he can't linger on them or he'll likely break down. As sad as Farley's sudden death was back in December of 1997, we'll always have his body of work to reference to keep the comedic legend alive.
Tommy Boy hit theaters in 1995, and while it wasn't necessarily a hit with critics—the late Roger Ebert referred to it as "an explosion down at the screenplay factory" and subsequently placed it on his "Most Hated" list—it was the funniest thing many Chris Farley fans had seen in a long time. It may have some dry scenes, mostly involving Bo Derek and Rob Lowe's storyline, and Dan Aykroyd's Zalinsky plotline, but anytime Farley and Spade show up, audiences are dealt comic gold. Take for example the "desktop demo" scene where Tommy tries to use his salesmanship skills to sell brake pads, doing a model car demonstration that ultimately ends in a fiery wreck. Or what about the "Fat Guy In A Little Coat," which speaks for itself. Finding yourself looking to relive some of the movie's finer moments? Check out this sweet highlight reel.
Tommy Boy is a cult classic thanks to its ultra successful run on dvd and on home rental markets. Keeping the spirit of the film alive, it just so happens to be available for streaming on Netflix, so sit back and hit play and help celebrate the cult comedy's 20th anniversary.
Your Daily Blend of Entertainment News
Your Daily Blend of Entertainment News
Thank you for signing up to CinemaBlend. You will receive a verification email shortly.
There was a problem. Please refresh the page and try again.