Why Dan Aykroyd Still Thinks Ghostbusters 3 Is Going To Happen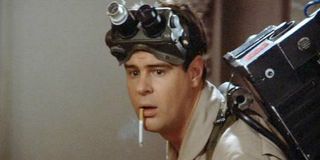 Before the new Ghostbusters was announced as a reboot with Kristen Wiig, Kate McKinnon, Melissa McCarthy and Leslie Jones, Dan Aykroyd was busy working on a story line for a more traditional sequel. Though director Paul Feig plans on shooting his interpretation this summer in New York for a 2016 release, the original Ghostbuster seems to think that his version could still happen.
Sitting down with SiriusXM studios, Aykroyd talked about everything Ghostbusters, including the fate of his version for Ghostbusters 3. As quoted by The Interrobang, he said:
The more traditional version of Ghostbusters 3 was long in development, but it got derailed after the tragic death of Harold Ramis. The plan was to have him return alongside Aykroyd and Bill Murray, under the direction of director Ivan Reitman. A couple years ago, Aykroyd told ShortList that the story would see a new generation of Ghostbusters taking the lead. He also appeared on The Dennis Miller Show (via Coming Soon) back in 2011 and dropped a significant amount of details, including the fact that Ray is now blind in one eye and Egon is too large to suit up. Then, in 2013, he told Larry King (via Coming Soon) that his story is based on "new research that's being done in particle physics" that threatens the dimension that we live in. At this point, however, Murray had expressed his disinterest in starring in a sequel. This is just one treatment he had been working on. While it seems to be the most recent take, Aykroyd mentioned years earlier to Esquire that he was writing a plot line that involved a trip to Hell.
Ghostbusters fans initially were split on the idea of women taking over their beloved franchise, with some even going as far to say that this new outlook would ruin their childhoods. However, since Feig made his retorts and the original Ghostbusters cast gave their blessings, most people have seemingly turned the beat around. Ernie Hudson, who played Winston in the originals, predicted that fans wouldn't be into a new installment with all-female leads.
Though Aykroyd still believes we could see his vision for Ghostbusters 3 some time in the future, it is just as he says: it's up to the ladies to drum up some box office dough.
Your Daily Blend of Entertainment News