See David Spade And His Terrible Facial Hair In Joe Dirt 2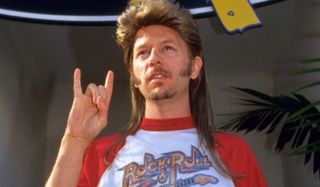 Filming for Joe Dirt 2 is under-way, and to prove to the world that he looks just as good as ever with a mullet and abysmal facial hair, David Spade has uploaded an image from the 1st day of shooting. You can check him out in all of his glory below.
Clearly David Spade is pretty excited about returning as the character, which is why he laced his Instagram post with profanity. And seeing the comedian in a plaid shirt will have fans of the original 2001 comedy purring with excitement too. While Joe Dirt hardly set the movie world alight when it was released over a decade ago, it managed to do relatively well at the box office (From a budget of $17.7 million, it grossed $30.9 million) especially since most critics believed that it was rather woeful. That's right: not even the acting talent of Kid Rock could save Joe Dirt from a critical shellacking. You can see a scene that pretty much sums up the film's humor below.
Despite its various issues, Joe Dirt somehow turned into a cult commodity over the last few years. This was mainly a result of its numerous airings on cable television and its weird, absurd jokes that, even though they're stupid, you can't help but laugh at. In fact a sequel has been in the works for quite some time now. Back in 2010, David Spade even worked on an animated series based on the character for TBS. However, that unfortunately failed to materialize. But after a few years in the wilderness, David Spade was able to work out a deal with Crackle which will now see Joe Dirt 2 pick up exactly where its predecessor left off.
Joe Dirt 2 has now begun filming in Louisiana, and those involved in the project are hoping that it will be released on the internet at some point in 2015. Working alongside David Spade once again is the original film's writer, Fred Wolf. The former Saturday Night Live scribe has co-written the comedy alongside its star, and will produce with Happy Madison productions too. Obviously the pair aren't expected to create a cinematic masterpiece, but fans of the original will be chomping at the bit to reunite with Joe Dirt and his adorably dim-witted posse.
Your Daily Blend of Entertainment News
Thank you for signing up to CinemaBlend. You will receive a verification email shortly.
There was a problem. Please refresh the page and try again.