Watch Jennifer Lawrence Do Chris Farley's Fat Guy In A Little Coat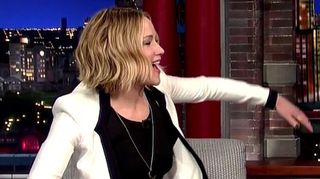 Jennifer Lawrence has just reminded us why the whole world is in love with her. During an interview with David Letterman on The Late Show the actress sported a teeny tiny jacket that restricted her movement but then inspired her do a stupendous impression of Chris Farley's "Fat Guy In A Little Coat" dance. It's the sort of thing that can make any Friday umpteen times better. Press play below, and skip to the 59-second mark. It's adorable:
Jennifer Lawrence was on the talk show to promote her upcoming turn as Katniss Everdeen in The Hunger Games: Mockingjay – Part 1. And while her appearance was slightly blighted by a few technical issues and David Letterman's decision to compare a scene in the blockbuster's trailer to a 7-10 split in bowling, Jennifer Lawrence still managed to glow with charisma. This was plainly evident when she launched into an impression of Chris Farley from Tommy Boy that instantly made the world feel like a better place. Check out a GIF of her impeccable impression below.
You also can watch the former Saturday Night Live star's original dance from the 1995 road-movie right underneath these words.
It's hard to know if David Letterman actually got the reference, but his soulful and contagious laugh only added to the aura of warmth that permeated throughout his exchange with the actress. As the crew struggled to get the clip ready to promote the third instalment to the Hunger Games franchise, Jennifer Lawrence and David Letterman could easily have just made awkward, tepid patter in order to fill time. Instead the pair seemed to bounce off of each other, even though the Oscar winning actress was understandably nervous that her attempt to promote the blockbuster was going to fail spectacularly. How nervous was she? Well she even contemplated eating her necklace to pass the time.
In the end the pair decided to simply walk off the set of the show because of the delay in airing the clip. All of which simply enhanced Jennifer Lawrence's reputation as the most down-to-earth and relatable movie star currently working in Hollywood. If David Spade had any sense, he'd be calling her up right now to see if she is interested in starring in a re-make of Tommy Boy. Surely even he couldn't ruin her reputation at this point.