See The New Ghostbusters Visiting A Children's Hospital In Full Costume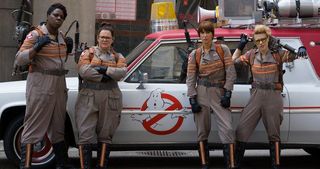 Despite the negativity surrounding Paul Feig's upcoming female-fronted Ghostbusters, it won't be holding the team back from using their ghost-busting powers for good any time soon. When the women get in gear, they can do anything-- including bringing smiles to a group of sick children at a hospital. The children may have only just got to know this new Ghostbusters cast, but they sure were excited to have Melissa McCarthy, Kristen Wiig, Kate McKinnon and Leslie Jones answering their call.
A few weeks ago, director Paul Feig gave us our first good look at the entire team rocking their suits and weapons. They all looked pretty badass, and a group you definitely did not want to mess with. Here we see a different side of the four comedians, for one they look much happier, and are making those around them feel super special. It's a beautiful thing, and this trend of celebrities stopping by children's hospitals to shed some smiles, is a trend that I support 100%. But on top of making these kids days, they are also making ours. Because not only is it nice to see our new Ghostbuster crew helping out, but we also just got an even better look at their Ghostbusting gear.
There suits have reflective strip, which must come in handy during late night ghost-hunting. And those proton packs look even sleeker than the one Paul Feig teased last month. Those guns look small, but definitely powerful. Check out one fan testing it out:
All in all, it was the best surprise these four women with their newfound fame could give. When they arrived at Floating Hospital for Children at Tufts Medical Center, the patients were absolutely thrilled. Unfortunately, critics of the reboot have not been quite as accepting of the event, even adding harsh commentary on the hospital's Facebook page. Whether you're a fan of this new female-lead Ghostbusters team or not, there's no denying what they did yesterday was a great thing.
Ghostbusters is scheduled to hit theaters on July 22, 2016.
Your Daily Blend of Entertainment News
Your Daily Blend of Entertainment News
Thank you for signing up to CinemaBlend. You will receive a verification email shortly.
There was a problem. Please refresh the page and try again.