See How Insanely Skinny Chris Hemsworth Got For In The Heart Of The Sea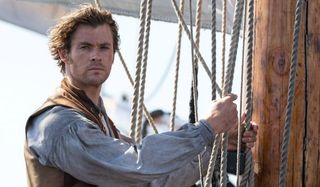 The muscle-bound, physically imposing Chris Hemsworth with blonde, luscious locks is dead. Long live the painfully thin, plain old dirty, hobo look-alike version of Chris Hemsworth. Filming on Ron Howard's In The Heart Of The Sea took quite the toll on the Australian actor. And just to prove how much he had to change his appearance for his leading part in the Ron Howard directed film, Hemsworth has uploaded an image to his Twitter account that you'll find yourself both impressed and repulsed by.
Yep, that's right, underneath that mane of shaggy hair, scruffy beard, and mounds of dirt is Chris Hemsworth. You can just about recognize him because of his piercing blue eyes. No matter how bad it gets, they'll never leave him.
However, while the complete degradation of the actor's good looks is what probably first gets your attention, if your eyes wander a little further south you'll notice that Hemsworth dropped a huge amount of weight in order to portray First Mate Owen Chase in Ron Howard's nautical adventure.
Now while dropping down to such a low weight would have been a gargantuan achievement for even an average-sized individual, it shouldn't be forgotten just how physically impressive Chris Hemsworth was before he took on the role. Don't remember? Well just take a gander at his frame in Avengers: Age Of Ultron:
During a visit to the set of In The Heart of the Sea last year, Cinema Blend learned that the actors were dropping down from 1,000 calories to just 500 calories a day in order to look as gaunt and emaciated as possible. It was during this chat that Chris Hemsworth admitted that he'd dropped down from 215 lbs to 185 already.
But will it all have been worth it? The jury is still out. The trailers for In The Heart Of The Sea have made the film look rather grandiose and impressive. Something that you can remind yourself of below …
But with Star Wars: The Force Awakens due to be released just a week after In The Heart Of The Sea - while J.J Abrams' effort will undoubtedly overshadow any promotional efforts made by Warner Bros. too – it's going to be a big ask for it to claw back it's rather obvious hefty budget. Hopefully I'll be proved wrong when In The Heart Of The Sea is released on December 11. Will you check it out?
Your Daily Blend of Entertainment News
Thank you for signing up to CinemaBlend. You will receive a verification email shortly.
There was a problem. Please refresh the page and try again.