New In The Heart Of The Sea Trailer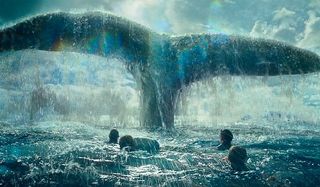 Chris Hemsworth trades in his Asgardian hammer for a harpoon in this December's In the Heart of the Sea, and the actor has unleashed a new trailer for our enjoyment. It's full of intense drama on the open ocean, man's struggle for survival against a gargantuan agent of Mother Nature, and gorgeous imagery all around. Watch the footage below.
In lieu of a traditional trailer unveiling on YouTube, Hemsworth released the third In the Heart of the Sea trailer on his Twitter feed. The film is directed by Ron Howard and takes inspiration from the true story behind Moby Dick. It focuses on the men who steered the Essex, a whaling ship based out of New England that encountered a mammoth-sized white whale in 1820.
While Moby Dick centered on the most dramatic aspect, the actual event itself, In the Heart of the Sea promises to also dive into the aftermath. We see in the trailer that Hemsworth's Owen Chase, the ship's first mate, washes up on the shores of an unknown shore after the whale lays waste to the Essex. According to the official plot description from Warner Bros., the men aboard endure storms, starvation, panic, and despair in their fight to stay alive and return home.
Joining Hemsworth on this voyage are Bejamin Walker (Abraham Lincoln: Vampire Hunter) as the Essex's captain, Cillian Murphy (Batman Begins) as the second mate, Ben Whishaw (Spectre) as Moby Dick author Herman Melville, Brendan Gleeson (Edge of Tomorrow) as seaman Tom Nickerson, and Jordi Molla (Riddick) as captain of another ship called the Archimedes. Something Marvelites can look forward to, as well, is Tom Holland. The newly minted Spider-Man who will make his debut in the Marvel Cinematic Universe in next year's Captain America: Civil War plays a younger version of Nickerson.
While the Toronto International Film Festival laid the preliminary work in pinpointing the potential frontrunners for the next awards race, In the Heart of the Sea seems like another likely contender. Howard won his first two (and only) Oscars with A Beautiful Mind. Starring Russell Crowe, the 2002 film took home Best Picture and Best Director. His most recent film, Rush, which also starred Hemsworth, was snubbed from the Oscars in 2014, though it was nominated for two Golden Globes — Best Picture, Drama and Best Supporting Actor, Drama. Perhaps In the Heart of the Sea will give Howard — and perhaps Hemsworth as well — a chance at the golden statuette during next year's ceremony.
In the Heart of the Sea will be released in theaters on December 11.
Your Daily Blend of Entertainment News
Thank you for signing up to CinemaBlend. You will receive a verification email shortly.
There was a problem. Please refresh the page and try again.