See Jared Leto Trick Another Joker At New York Comic-Con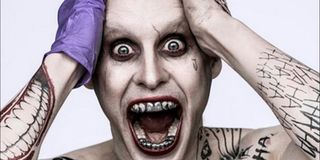 Celebs want to get on the ground floor of Comic-Con, too. The problem is that they'll get mobbed by hordes of fans. It's like Rick Grimes finding yourself smack dab in the middle of a walker parade. Not pretty. Folks like Daniel Radcliffe, Andrew Garfield and Bryan Cranston found a way around this by donning masks and super concealing cosplay to hide their identities. This weekend, while New York Comic-Con took over Manhattan's Javitz Center, Jared Leto participated in this grand tradition by going all Rafiki. Check him out below.
Rumors of Leto's appearance at NYCC began swirling after the Oscar winner posted some pics from the Con on his Snapchat account. Shortly afterwards, he posted the above photo of himself to Instagram. Shortly after that, he tweeted another pic of his masked self posing for a photo with a fan cosplaying as his version of Joker in Suicide Squad. The poor guy had no idea, though I'm sure he's now freaking out.
Jared Leto wasn't the only celeb pulling this sneaky move. Mark Ruffalo, who plays Bruce Banner/Hulk in the Avengers films, donned a cigar-smoking old-man mask on the floor. He posted a couple photos to Instagram to prove it.
Sure enough, fans began flooding the comments sections, writing how they all saw him numerous times without realizing who it was.
It's unclear where Ruffalo will pop up again in the Marvel Cinematic Universe, as he was last seen flying off in his cloaked quinjet. But for Leto, he'll be featured as the Joker in David Ayer's film about Task Force X. Suicide Squad stars Margot Robbie as Harley Quinn, Will Smith as Deadshot, Jai Courtney as Captain Boomerang, Joel Kinnaman as Rick Flagg, Cara Delevigne as Enchantress, Viola Davis as Amanda Waller, Adewale Akkinuoye-Agbaje as Killer Croc, Jay Hernandez as El Diablo, Adam Beach as Slipknot, Karen Fukuhara as Katana, and Ben Affleck as Batman. The film will hit theaters on August 5, 2016.
Your Daily Blend of Entertainment News
Thank you for signing up to CinemaBlend. You will receive a verification email shortly.
There was a problem. Please refresh the page and try again.