See Jurassic World's Awesome Response To Losing To Star Wars At The Box Office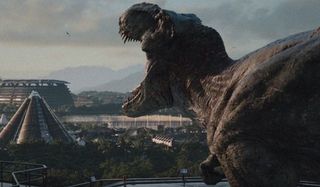 Judging by the opening weekend numbers and the fact that it seems like it's all anyone anywhere is talking about, you're well aware that Star Wars: The Force Awakens opened this past weekend. Hell, you probably saw it, perhaps multiple times. This fervor for that far, far away galaxy lead to the biggest opening weekend of any movie ever. To gain this honor, The Force Awakens deposed Jurassic World, which took the top spot earlier this year, and the dinosaur adventure graciously ceded the throne with class, dignity, and an adorable congratulatory message.
Producer Frank Marshall shared a quick message on Twitter, congratulating J.J. Abrams, Kathleen Kennedy (Marshall's wife), Lucasfilm, and the cast and crew on their monumental opening. The tweet arrived with an image showing the Jurassic franchise's biggest star, the T-Rex, putting a gold medal around the neck (is that what you'd call it?) of one of the breakout stars of The Force Awakens, the one-of-a-kind ball droid BB-8.
When it was released this past summer, Jurassic World demolished theaters with a $208.8 million domestic debut, setting an impressive high-water mark. Normally an accomplishment like that stands for a while, but it only took a few months before The Force Awakens arrived on the scene, bringing in an mind-boggling total that fell just a hair shy of $248 million in the U.S. alone (globally it's already at $528 million plus, so you have to imagine Disney executives swimming through money like Scrooge McDuck).
Don't feel too bad for Jurassic World, however, as it went on to make more than $1.6 billion world wide, which is good enough to make it the third highest grossing movie of all time. For now.
Given The Force Awakens' mammoth opening, some have started to wonder if it could be the film that finally unseats Avatar as the highest grossing film ever made. If any movie is going to, this one probably has the best shot. Not only are the debut numbers huge, it doesn't appear to be going anywhere anytime soon. With a 94% Fresh rating on review aggregator Rotten Tomatoes, the critical consensus is super positive—even though there may be problems, most critics seem to agree that it is a damn good time—and with an A Cinemascore, audiences have found a lot to connect with. Both of those are good indicators that the movie will have legs and longevity.
It's a long road to the top of the box office mountain—and to be honest, it doesn't really impact any of us in any significant way—but it will be interesting to watch how Star Wars: The Force Awakens continues to perform.
Your Daily Blend of Entertainment News
Thank you for signing up to CinemaBlend. You will receive a verification email shortly.
There was a problem. Please refresh the page and try again.