See Rampage In Costume As B.A. Baracus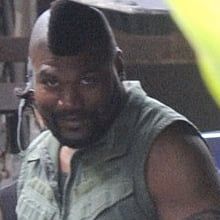 Have you had your doubts that UFC fighter Quinton "Rampage" Jackson is cut out to play B.A. Baracus in the A-Team movie, stepping into the shoes that Mr. T made immortal? Well, rest assured that all it has taken is a haircut to get Jackson in perfect shape. UR Dirt got their hands on a photo (via Splash News) of Jackson in costume as Baracus, and wouldn't you know, it's as if a young Mr. T is walking among us again.
You can see a bigger version of the above photo over there. I guess they really could have gone another direction with it, not giving Baracus a mohawk this time to distance him from Mr. T, but the gamble seems to have paid off; he looks fantastic. We'll see how the rest of the cast starts to fill in their original roles, but this is most definitely a good start.
Your Daily Blend of Entertainment News
Staff Writer at CinemaBlend