See Robert Downey Jr Dressed As Tigger Cheer Up A Sick Kid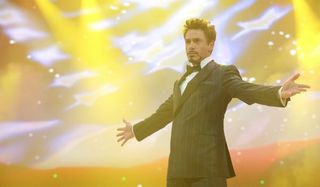 At this point it should come as no surprise to anyone that Robert Downey Jr. is a real life superhero. After a career resurrection with Iron Man back in 2008, the actor – and box office King Midas – has taken it upon himself to repeatedly pay it forward. His latest foray into the world of generosity should warm even the coldest of hearts; check it out below.
According to the post on the actor's Instagram account, the mother of a young boy suffering from cystic fibrosis recently reached out to Downey Jr. via social media. In reply, he donned a Tigger costume, explaining that when he gets "down in the dumps," it always makes him feel better. Not content with merely replying in such a humorous fashion, he then extended an offer for Daniel to join him at the premiere of Captain America: Civil War next year.
Robert Downey Jr. has used his gregarious persona to brighten the lives of numerous children in recent months. Aside from this most recent endeavor with Daniel, the actor also delivered a bionic arm replacement for a boy born with only a partially developed right arm. He maintained his Tony Stark character throughout the proceedings, effectively immersing the young boy in the superhero world that he has grown up loving.
The world of Hollywood superheroes has a strong tendency towards charitable contribution. Similar to Downey Jr., Hugh Jackman took time to surprise a young Australian boy who claimed to be the world's biggest Wolverine fan – asking him his favorite aspects of the character and indulging the boy's fantasies about Jackman. Earlier this year, Chris Pratt and Chris Evans teamed up to visit children's hospitals dressed as their respective characters: Star-Lord and Captain America. Even over this last week, a teenager with spina bifida was granted a wheelchair modeled after the Avengers' quinjet so he could partake in the simple act of trick or treating like a normal kid this Halloween – something that had previously been incredibly difficult for him.
These acts of kindness not only brighten the days of their recipients, but they also reaffirm our belief in real life heroes. Men like Robert Downey Jr. or Chris Pratt may not be able to fly or shoot lasers, but they effectively inhabit the inherent goodness that we come to expect from the likes of Tony Stark or Peter Quill. The Avengers may be fictional, but heroes very much exist within our world. It only takes a small gesture to make all the difference.
Originally from Connecticut, Conner grew up in San Diego and graduated from Chapman University in 2014. He now lives in Los Angeles working in and around the entertainment industry and can mostly be found binging horror movies and chugging coffee.
Your Daily Blend of Entertainment News
Thank you for signing up to CinemaBlend. You will receive a verification email shortly.
There was a problem. Please refresh the page and try again.