See The Thing Without Pants In Latest Fantastic Four Footage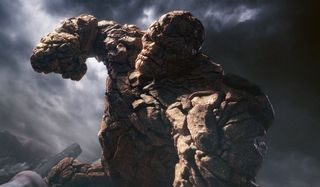 It's a no-pants dance party in the latest Fantastic Four TV spot. While the new footage features our best look yet at the unique abilities of Mr. Fantastic, Invisible Woman, Human Torch and The Thing, as well as finding another use for Kanye West's "Power," it also spotlights the rocky member of Marvel's first family in his birthday suit. Check him out below.
Can't you just imagine someone somewhere in the world seeing this spot and denouncing Fantastic Four for screening inappropriate material? Thankfully for any of those remarks out there, The Thing has, well, no thing to expose. While there are scenes from the previous trailers that show the character wearing his signature shorties, perhaps this is a more realistic take. It can't be easy for The Thing to slip on clothes every time he wants to go save the day. Let's get another look, shall we?
Tee hee.
On a more serious note, the Fantastic Four spot, which was released online by Fox, also highlights each hero as they discover exactly what they can do with their newfound abilities. "Are you ready to have your minds blown?" asks Johnny Storm before lighting himself on fire to take flight and hurl a fireball at his sister. Thankfully, Sue Storm can block just about anything that comes across her path. She can even knock back six shipping crates at once. Then there's Reed Richards, who's just as flexible as we remember.
This latest look at the re-envisioned take on the superhero team comes just in time for the 10th anniversary of the original live-action film starring Chris Evans, Jessica Alba, Ioan Gruffudd and Michael Chiklis. Thankfully, Trank and 20th Century Fox are taking a lot of liberties and departures from the source material with this new take. In addition to The Thing dropping trou to take a bow, the film will see the Fantastic Four in their younger years as they meet to not travel into space but to crack the secret to inter-dimensional travel. When they do, they cross over to an alternate dimension, a journey that forever alters their genetic makeup and grants them superpowers.
Of course, what Fantastic Four film is complete without Doctor Doom? Victor is portrayed as a computer hacker who makes the voyage to the beyond with the other characters before coming back as the electrically charged villain we all know and love. Populating the new cast are Miles Teller, Michael B. Jordan, Kate Mara, Jamie Bell and Tobey Kebbell.
Fantastic Four will hit theaters on August 7.
Your Daily Blend of Entertainment News