Seth Rogen's Green-Band Sausage Party Trailer Is Still Violent, Terrifying And Super Weird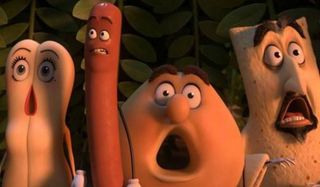 Everybody likes a good, old-fashioned R-rated comedy, but not everything is appropriate for a film's marketing campaign. Even cartoons have to go through the screening process by the MPAA. A new green-band trailer for Seth Rogen's upcoming animated comedy Sausage Party has just hit the web. It's less vulgar than what we've already seen, but it's by no means any less weird. Check it out below.
The above trailer plays out in a similar fashion to what we've already seen from Sausage Party's marketing campaign. Various types of food are eagerly waiting for shoppers to take them home from the grocery store – completely unaware of what happens to food when they get to the final destination. As the woman who bought the food begins to prepare the meal, the foods watch in horror as their friends are butchered mercilessly in front of their very eyes. What follows is an adventure to escape and tell the rest of the food back at the grocery store the horrifying truth about their collective existence.
This particular trailer for Sausage Party gets away with quite a bit because of the animated style of the movie. Although all of the profanity has been cut out of this particular trailer, it's still technically incredibly violent as we watch a potato get his skin sliced off and baby carrots get viciously chewed to death in woman's mouth. I know, they're food, but it's still hilariously disturbing.
Of course, if you're the type of person who wants a bit more vulgarity in your animated feature films, you can always check out the red-band trailer for Sausage Party that dropped a few months ago:
The Sausage Party humor certainly still works in the green-band trailer, but we have a distinct feeling that the movie will be made all the funnier by its unrestrained willingness to utilize its R-rating. Seth Rogen, Evan Goldberg and actors like James Franco and Kristen Wiig have never shied away from raunchy comedy, but the unique visual format of Sausage Party will set it apart from the myriad other R-rated affairs that have hit theaters over the last couple of years. Our only hope is that parents realize what type of movie they're taking their kids to before its too late.
If you can stomach the horrific atrocities that fall these food items, then Sausage Party might be the sort of adult animation that you need in your life right now. The latest Seth Rogen comedy will hit theaters later this summer on August 12.
Your Daily Blend of Entertainment News
Originally from Connecticut, Conner grew up in San Diego and graduated from Chapman University in 2014. He now lives in Los Angeles working in and around the entertainment industry and can mostly be found binging horror movies and chugging coffee.
Your Daily Blend of Entertainment News
Thank you for signing up to CinemaBlend. You will receive a verification email shortly.
There was a problem. Please refresh the page and try again.