Seth Rogen Might Join The Steve Jobs Biopic To Play This Legend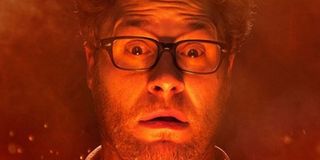 Seth Rogen is reportedly in line to star in Aaron Sorkin's upcoming Steve Jobs biopic. That's right: Seth Rogen might be starring opposite Christian Bale, who last week was confirmed as the lead in the hugely anticipated drama. Am I the only one who is a tad concerned for Rogen's safety?
The Neighbors star has been linked to play Steve Wozniak, who notably created the Apple I computer and also co-created the Apple II computer in the 1970s. The Wrap have reported that Seth Rogen hasn't officially signed a deal to star as the inventor yet, but he has held serious talks with the film's producers, Scott Rudin, Mark Gordon, and Guymon Casady, as well as Aaron Sorkin. It's hoped that pairing Rogen with Christian Bale will have the same results as when Leonardo DiCaprio and Jonah Hill starred alongside each other in Martin Scorsese's The Wolf Of Wall Street. Jonah Hill was ultimately nominated for a Best Supporting Actor Oscar because of his turn in the drug-fuelled drama.
However, there are a few reason why I'm concerned that won't be the case for Seth Rogen and Christian Bale. Before The Wolf Of Wall Street, Jonah Hill had already established his dramatic credentials opposite Brad Pitt in Moneyball. In fact he was so superb in Bennett Miller's baseball drama that he was rewarded with his first ever Oscar nomination. Meanwhile, Seth Rogen hasn't really shown that he could prosper in a weighty and complex role. There were elements of 50/50 and Take This Waltz that saw him verge into more dramatic territory, but each of those characters were still mostly comedic. Take This Waltz was the closest that he has ever come to making himself more vulnerable and emotional as an actor, but he never came close to deploying the subtlety that Hill managed in Moneyball.
That's not to say that Rogen won't excel as Wozniak. In fact, he is exactly one step-up from the actor who played Wozniak in 2013's Jobs. Josh Gad was cast opposite Ashton Kutcher's Steve Jobs, and while there's no denying the fact that The Book Of Mormon has an quirky comedic presence, Rogen has clearly had the more impressive career. I think the biggest problem that I have with Seth Rogen's involvement in Aaron Sorkins' Steve Jobs biopic is that I literally cant imagine him sharing a screen with Christian Bale, let alone picturing them making small talk off-camera. It's just weird.
It sounds as though Christian Bale's casting as Steve Job has proved to be a catalyst for the biopic though. Danny Boyle is locked in to direct Sorkin's script, and there is also word that Jessica Chastain is allegedly being approached for an unspecified role in the film too. All that we know so far about the film plot-wise is that it takes place in real time and is set over three stressful, high-profile Apple product launches.
Your Daily Blend of Entertainment News
Your Daily Blend of Entertainment News
Thank you for signing up to CinemaBlend. You will receive a verification email shortly.
There was a problem. Please refresh the page and try again.