The Sex Ed Trailer Gives Us A Loveable And Horny Haley Joel Osment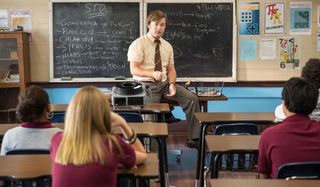 Ever wonder what happened to Haley Joel Osment? If so, you might well welcome the trailer for the new sex-comedy Sex Ed, which has the former child star playing a hapless sex-ed teacher who lives the cliché, "those who can't do, teach." See, Ed (Osment's character) is a virgin. And hilarity ensues!
In the late 1990s/early 2000s, Haley Joel Osment was an adorable child actor who won the world's notice with his gripping role opposite Bruce Willis in M. Night Shyamalan's The Sixth Sense. Playing the haunted young Cole Sear earned the 12-year-old an Academy Award nomination for Best Supporting Actor. The following year he co-starred with two Academy Award-winners (Kevin Spacey and Helen Hunt) in the earnest drama Pay It Forward. Then in 2001, Steven Spielberg called on this kid to shoulder his translation of the long-dead A.I. - Artificial Intelligence, conceived by the late Stanley Kubrick.
Haley Joel Osment was destined to be the next BIG thing, but roundabouts puberty hitting with Secondhand Lions in 2003, Osment vanished from the screen.
The past couple of year's he's been popping up again, mostly in supporting roles in little movies like the coming-of-age dramedy Sassy Pants, where he plays the chippie lover of the heroine's gay dad, or Kevin Smith's Tusk, where he plays sidekick to Justin Long's cynical blogger. But with Sex Ed, Haley Joel Osment is back in the lead position, steering this sex comedy for all he's worth.
Sex Ed marks the directorial narrative feature debut of Isaac Feder, who previously helmed the gambling documentary Life on the Line. Its penned by House of Cards staff writer Bill Kennedy, and its cast is peppered with notable comedy stars. There's Parks and Recreation's Retta, Saturday Night Live's Abby Elliott, Veep's Matt Walsh, New Girl's Lamorne Morris, and Raising Hope's Ray Santiago. And yet…it looks pretty lame. Maybe it's no wonder it's taken four years to get this movie in theaters?
Comedies try to entice could-be audiences with their punchiest jokes in their trailers. And what does Sex Ed give us? A flustered, chubby former child star grimacing as he tries to force a condom on a banana and lines like, "Sometimes I'm a walking boner. That's why I can't wear sweatpants anymore." And did you catch that Osment plays a Sex Ed teacher named Ed? That's the level this low-brow comedy is working at. Basically, the whole thing deserves serious Retta side-eye.
I'm all for a Haley Joel Osment comeback. But I very much doubt comedies like those he's been picking will be his way back to the fame and acclaim he knew as a tween. Risky roles are great. These "risqué" movies he's picking are anything but.
Sex Ed will be in theaters and on VOD and iTunes November 7th.
Your Daily Blend of Entertainment News
Staff writer at CinemaBlend.