Sex Tape Finds Much Needed Success In The U.K.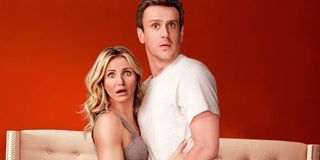 Despite being fronted by such beloved comedy stars as Jason Segel and Cameron Diaz, Sex Tape flopped at the domestic box office. But its reputation could well be saved thanks to some enthusiastic fans across the pond.
THR reports Sex Tape is thriving in the United Kingdom. While the comedy opened without a bang in the US last July, it has just hit in the U.K., and it's hitting hard. Box office tracker Rentrak estimates the Jason Segel/Cameron Diaz rom-com has pulled in $2.3 million in its UK debut, where it played on just 441 screens. That may not sound like an impressive number when compared to the fat figures that typically mark U.S. box office winners, but it's great news for the Sony comedy.
The saucy Sex Tape has Diaz and Segel playing a married couple in desperate need of a jolt to their sex life. A wild night leads to the creation of a sex tape that then gets shared to the dreaded and misunderstood cloud, forcing the pair to chase down iPads and delete the tape before it can upend their lives.
Critics were not kind to Sex Tape, giving it a 18% rating on Rotten Tomatoes. Our own Eric Eisenberg called it "lazy," but admitted, "It's not a movie that will make you cry laughing, but there are a few legitimate chuckles to be had."
The reported $40 million Sony is said to have laid down to make Sex Tape does not include the high costs of the splashy ad campaign they rolled out in hopes of making it The Bridesmaids or The Hangover of 2014. But the flick never caught on, earning just $38 million in its domestic run after coming in fourth place during its opening weekend, behind Dawn of the Planet of the Apes, The Purge: Anarchy and Planes: Fire & Rescue. Notably, all of these contenders were sequels, which means they had the advantage of an established audience. Still, Sony was quick to blame the film's title on its poor showing.
Things might have not gone well in the U.S., but it seems Sex Tape is selling better overseas. With this U.K. victory, Sex Tape has bumped Lucy out of the nation's #1 spot, where the Scarlett Johansson hit has sat for the past three weeks since opening. Currently ranked third in the U.K. is the psychological thriller Before I Go To Sleep, which won't grace theaters Stateside until Halloween.
This is a hopeful sign for Sex Tape, which has made $47 million in international box office revenue to date. Personally, I'm rooting for it to find its audience. Despite its problematic name and its lackluster trailers, I was pleasantly surprised by this movie. It's not especially inspired or inventive in its comedy, but it doled out laugh-out loud performances from the likes of Rob Lowe, Rob Corddry, Ellie Kemper and Jack Black. Most impressive, it found a place--amid its raunchy jokes and wild antics--to show a great understanding of how marriages really work. In good times and in bad, Sex Tape seems to be sticking it out.
Your Daily Blend of Entertainment News
Staff writer at CinemaBlend.